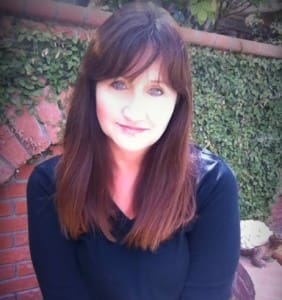 Tell us about yourself and how many books you have written.
I began writing soon after learning to hold a pencil—or possibly a crayon—but it wasn't until my four children were older ( and learned to forage for their own food) when I began indulging my true passion.
By day, I teach literary analysis and writing in the International Baccalaureate program. Nights and weekends you'll find me glued to the laptop—spoiled pooch at my side—crafting the next novel or writing a blog.
I have a weakness for a nice glass of wine, good chocolate, ice cream, and cheese, and cupcakes, and…um well, you get the point. Exercise? Not so much. The treadmill sits in the garage where I manage to climb aboard a few times a week and attempt to catch up on what everybody else is talking about. Right now it's Dr. Who and Sherlock.
The Merkabah Recruit and The Merkabah Deception are the first two paranormal novels I've written. I've also completed The Emperor's Assassin, a historical fiction about Locusta of Gaul, a woman who was Roman Emperor Nero's personal poisoner.
My current project is the 3rd in the Merkabah Series.
An avid reader, I savor well crafted, witty prose that makes me laugh, challenges conventionality, and stirs the imagination. An intriguing mystery-thriller, historical fiction, or urban fantasy will have me reading into the wee hours of the night.
I love connecting with readers– especially when they tell me to hurry up and write the next book! Now that's incentive! You can find me on Twitter, Goodreads, LinkedIn, Google+, Instagram ( lzmarieauthor or luluthe muse), Pinterest, Tumblr, & Facebook.
What is the name of your latest book and what inspired it?
Folks ask about my inspiration for the Merkabah Series. That's an easy question to answer! I've always been amazed by the links between ancient history, mythology, and religion. They are so closely intertwined we don't often make a distinction between them. And modern scientific theories only continue to prove the existence of the weird and fantastical!
What authors, or books have influenced you?
As a literature teacher and book worm there are many books and authors who have influenced me. I love gobbling up anything from Jane Austen, Ray Bradbury, James Rollins, Dan Brown, Sophie Kinsella, Julie Kenner, Preston & Child, Susan Howatch…I imagine every book a person reads influences them in some way.
What are you working on now?
The 3rd in the Merkabah Series, The Merkabah Temptation, is in the 2nd draft stage. After that, I'll finish up the 5-book series and begin writing another historical fiction.
What is your best method or website when it comes to promoting your books?
Goodreads, Twitter, Facebook, blog tours, review sites, and Amazon free days help me get the word out. I'm still fairly new to the promotion thing, so I haven't figure out if there's a best way yet.
Do you have any advice for new authors?
New writers should take time to learn the craft of writing. There's so many blogs offering excellent advice about writing that a newbie can learn from. I teach literary analysis for a living, so I blog about authorial techniques and literary craft. When I meet an aspiring author, I tell them to begin building their platform, to reach out and connect with lots of different people. I didn't know any better when I began writing my first book, and it wasn't until after attending a conference that I decided to jump on the social media jetliner.
What is the best advice you have ever heard?
The best advice I've heard is, "write what you want."
I write what I would want to read. I write because there's a story that must be told.
What are you reading now?
I'm currently reading the Tibetan Book of Living and Dying. Not only is it inspiring, the philosophies and spiritual concepts are great fodder for the Merkabah Series.
What's next for you as a writer?
If you were going to be stranded on a desert island and allowed to take 3 or 4 books with you what books would you bring?
Author Websites and Profiles
L.Z. Marie Website
L.Z. Marie Amazon Profile
L.Z. Marie's Social Media Links
Goodreads Profile
Facebook Profile
Twitter Account
Pinterest Account