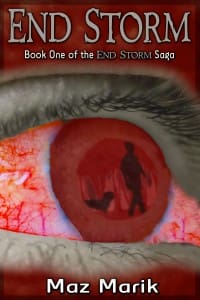 Tell us about yourself and how many books you have written.
I am Maz Marik, born and bred in Threapwood, UK.
I have recently moved to the south in England, after spending several years in the States and around Europe.
Other than writing, in my spare time, I like to scuba dive, read, walk, climb trees and go to the theater.
I got into writing when I was about 8, and I would write fictional sports reports, or a sequel to my favorite movie. Usually the characters would be my friends, and who ever had annoyed me most recently, would die a horrible death!
I then began to write poems and short stories, and recently finished my first novel, 'End Storm', which has had positive feedback, and was nominated for 'Apple's Breakthrough Author Awards'.
My second novel, 'Earthed', is due out late in October 2013.
I have already begun my 3rd and 4th novels and hope to have them both out by the summer of 2014.
What is the name of your latest book and what inspired it?
My latest book is called 'Earthed', and is a prequel to 'End Storm'.
It is set in the UK in the 1970's, and reveals more of the story of the End Storm saga, which should be about 10 books long when it is finished.
The inspiration behind it came from the same source as End Storm, which is my interests in horror, Greek mythology, Brothers Grimm and urban legends.
A lot of research has gone into the overall saga, which many people will be familiar with, especially those who are in to European folklore and fairy tales.
Do you have any unusual writing habits?
I prefer to write with candles burning either side of the laptop. Candles make me sleepy, and that's when I normally do my writing.
I also love taking a notepad and either describing a scenic view I can see, or people watching….It's amazing how many interesting souls live in my town!
What authors, or books have influenced you?
I would honestly say I don't know. My main influences, as I have mentioned come from urban legends or mythology.
Dean Koontz is someone I used to like to read, but now I tend to read books from unpublished authors.
Movies have also been a big influence. John Carpenter and James Cameron particular favorites.
What are you working on now?
Currently working on some short stories which will go hand in hand with Earthed, as well as the sequel to End Storm.
Books 3 and 4 are as of yet unnamed but are in the stages of being edited.
I am also working on a poetry project, as well as short mini videos to go with the End Storm saga.
What is your best method or website when it comes to promoting your books?
I tend to use Facebook, Goodreads and use local newspapers (some are more willing to help than others!), as well as my own website, www.mazmarik.weebly.com
Other than that, it is just word of mouth.
Do you have any advice for new authors?
Keep it as a hobby, and see where it takes you.
If you set yourself up to fall, that is what you will do, and after putting so much effort in, it can seem like a long way down.
What is the best advice you have ever heard?
Someone once told me, 'Get off Facebook, and get a life.'
What are you reading now?
Currently reading 'Unnatural Process', by Thomas Pryce.
What's next for you as a writer?
Just keep going. See where it will take me. I have no pressure with it, so I try to enjoy as much as I can.
would be nice to be able to pay at least one bill, one day, with earnings from books sales……
What is your favorite book of all time?
'The Watchers', by Dean Koontz, or Any Lord of The Rings by Tolkien. And a whole load of stuff by David Gemmell.
Author Websites and Profiles
Maz Marik Website
Maz Marik Amazon Profile
Maz Marik Author Profile on Smashwords
Maz Marik's Social Media Links
Goodreads Profile
Facebook Profile
Twitter Account