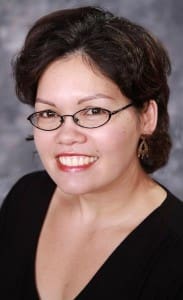 Tell us about yourself and how many books you have written.
I stumbled upon writing books and articles by accident. As most things in life go, if you can recognize an opportunity when it come a-knocking, especially in unexpected circumstances, life just gets better. I write mostly about my long-time loves–Guam, exercise, and desserts. Born and raised on the 32-mile-long rock, I now live in North Carolina where I continue to work on my love of Guam food. Schooled as an exercise scientist at the University of Oregon, I have been able to help friends, family, and fans with their cooking and exercise endeavors.
My books include A Taste of Guam, Remember Guam, and Macarons Math, Science, and Art, all available on Amazon.com. A Taste of Guam and Remember Guam are my tribute to my island. Macarons Math, Science, and Art, was my way of blending academics, dessert, and fun, to make the most perfect French macaron. Food demonstration videos for my recipes are available on my website.
What is the name of your latest book and what inspired it?
I am currently working on another book, Conquered – an epic saga of war and love on Guam, a Pacific isle fighting and forging through World War II. It's been a long road since she started this book in 2006, but she continues to venture forward, one step at a time until the book is finished.
Do you have any unusual writing habits?
What authors, or books have influenced you?
I love Tom Clancy's Rainbow Six, and Stuart Wood's Stone Barrington novels. These author's styles have helped me in writing my Guam novel.
What are you working on now?
A World War II historical romance novel based on Guam.
What is your best method or website when it comes to promoting your books?
Amazon and Facebook
Do you have any advice for new authors?
Keep a file of all your book ideas. Use lots of manila folders for research. Write, write, and write more, particularly when you are in the mood.
What is the best advice you have ever heard?
Write first then do research to verify the facts.
What are you reading now?
Books about WWII on Guam as well as business/success books.
What's next for you as a writer?
Just trying to finish my novel that I started back in 2006…still years from completion.
What is your favorite book of all time?
Jean Auel's Clan of the Cave Bear.
Author Websites and Profiles
Paula Quinene Website
Paula Quinene Amazon Profile
Paula Quinene's Social Media Links
Goodreads Profile
Facebook Profile
Pinterest Account