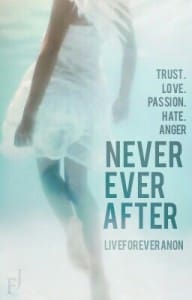 Tell us about yourself and how many books you have written.
My pen name is Mercy Cortez. I live in England and that is mainly where I set my books. I write about romance and loss and sometimes about darker reasons behind actions.
I have written two books; Never Ever After and Jagged Edge. I am currently working on the sequel to Never Ever After and it is called Never Ever After: Angel
What is the name of your latest book and what inspired it?
Never Ever After was inspired by real events, by people I know, by things I've lived and emotions it caused. It is about a woman who was abused by her boyfriend and leaves him but is then manipulated into sleeping with a married man, through being fed false truths. She seeks help at a group therapy centre and there she finds William; a man who seems to have more issues than meets the eye.
Do you have any unusual writing habits?
I write predominantly on my kindle, only editing on PC and uploading. I tend to write short stories because I hate dragging a story out.
What authors, or books have influenced you?
Every book I love influences me.
Tiffany Reisz, Jessica Sorensen, Tabitha McGowan, …
If I loved a book, even if I hated it, it inspired me.
What are you working on now?
Never Ever After: Angel.
It is the concluding part in the story for Will and Saskia and involves them being apart with flashes of memories and thoughts and emotions.
It is a very emotional story and I cried writing parts, I hope that I finish it soon and can finally get come opinions on the confusing story of my beloved characters.
What is your best method or website when it comes to promoting your books?
Good reads. Without a doubt I wouldn't have had the amazing feedback and support without that site. It's fantastic. I love being able to interact with readers, they are the important part for any author.
Do you have any advice for new authors?
Work on your book. They say you only get one chance at a first impression; bear that in mind. Write for you not anyone else. If you love your book; that's all that matters, just hope others love it too.
What is the best advice you have ever heard?
I'm not sure it is advice but a quote.
If you do not learn from histories mistakes you are doomed to repeat them.
What are you reading now?
I just finished Comfort Food. It was… terrible and terrific. I reviewed it on Goodreads, it was so torturing, but I gave it 4 stars.
What's next for you as a writer?
To keep writing; to keep enjoying it.
What is your favorite book of all time?
Brother in the Land by Robert Swindells. It was the first book I loved and made me want to read everything.
Thank you for the interview, I really enjoyed answering the questions 🙂
Author Websites and Profiles
Mercy Cortez Website
Mercy Cortez Amazon Profile
Mercy Cortez's Social Media Links
Goodreads Profile
Twitter Account