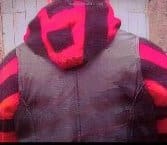 Tell us about yourself and how many books you have written.
I import industrial quantities of Class A drugs, kill people and lie (a lot) – AKA being a crime fiction writer based in Northumberland.
I have published 4 thrillers so far, The Liquidator set in East Africa and The Brethren MC trilogy set in the world of outlaw bikers (which has just been optioned for TV).
What is the name of your latest book and what inspired it?
I've just finished drafting Operation Bourbon which it turns out will be the fourth book in The Brethren MC trilogy.
Every time I think I've killed off the characters they just come back harder and dirtier than before.
Do you have any unusual writing habits?
Having my characters demanding new books when I had no intentions of writing them.
What authors, or books have influenced you?
I started writing in direct response to reading Iain Banks' Complicity and then John Le Carre's Tinker Tailor Soldier Spy, back to back half way up Kilimanjaro over a very drunken New Year's Eve / day.
What are you working on now?
Finishing off Operation Bourbon and getting back to something completely different.
What is your best method or website when it comes to promoting your books?
Goodreads – go where the readers are
Do you have any advice for new authors?
1 Just write
2 Don't give up the day job
What is the best advice you have ever heard?
1 Don't give up the day job
2 Just write
What are you reading now?
LA Confidential
What's next for you as a writer?
Hopefully getting involved in the scripts for the TV version of my books if the project is greenlit
What is your favorite book of all time?
The Prince
Author Websites and Profiles
Iain Parke Website
Iain Parke Amazon Profile
Iain Parke's Social Media Links
Goodreads Profile
Facebook Profile
Twitter Account