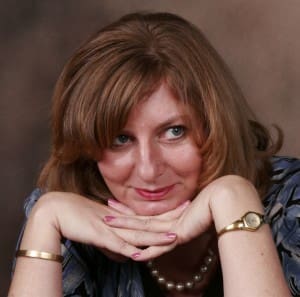 Tell us about yourself and how many books you have written.
I'm three people: I write newspaper and magazine features for mainstream media as Ellen Whyte by day, and I write fiction as Storm Chase and AJ Adams whenever I have a spare moment.
Storm Chase was born September 2012. She has written 11 novels, novellas and short stories, some fall under Contemporary Romance, some are Romance Erotica and most have the occasional Crime committed on the side. AJ Adams was born October 2013 and has written one book so far: The Bonus. AJ is writing darker fiction best described as organised crime.
Ellen Whyte is the sober one. She's the syndicated author who has published roughly 3000 articles and 10 print books. Storm and AJ are the tearaways who are dedicated to making it work with epublishing.
What is the name of your latest book and what inspired it?
Storm's last publication was The Musher And the Stringer, A Charlotte and Byron Erotica Romance. It's a short story and was inspired by the snow reports coming in from the US and the UK. Charlotte and Byron stories are happy shorts. They're an English couple who decide to spice up their sex life by playing games, so one month Charlotte is the naughty maid who is seduced by Byron, the wicked master of the house, and next she is the maiden in distress to Byron's knight-errant.
AJ wrote The Bonus, which was described by someone as "a beautifully twisted love story". It's the story of how Chloe, a seasoned drug courier, finds herself in the wrong place at the wrong time. Facing a lingering and painful death at the hands of the Zetas, Mexico's most brutal cartel, she persuades their enforcer to claim her. I warn people that the book contains explicit scenes of dubious consent, graphic violence and sex but it's actually a love story.
Do you have any unusual writing habits?
I have an editing cat called Target who is in charge of my desk. Whenever he thinks I need help, he steps on the F1 button to pull up the Help screen. He's also excellent at putting on the CAPS LOCK key. I also have a junior office cat, Guido. He makes sure that I keep my spare chair tidy so I'm forced to file instead of dumping papers there.
Target and Guido keep me sane and on track.
What authors, or books have influenced you?
There are dozens! I love Georgette Heyer's light touch, Thackeray's satire, Asimov's imagination, and John D. MacDonald's characterisation. For pulp I love Don Pendleton and Nick Carter as well as the older stories by Dashiell Hammett and Raymond Chandler. My other favourite authors include Colleen McCullough, Raymond Feist, Mary Stewart, Mary Renault, Agatha Christie, Terry Pratchett and Somerset Maugham.
What are you working on now?
Storm has just finished Pandora, an action intrigue combined with hot romance. It's with my beta readers so I'm on the edge of my seat waiting to hear what they say.
AJ has just finished The Degas Girl, the story of Serenity Bishop and Zachary Schiavelli, a art thief and forger working for the Camorra. I'm editing that now and will be looking for beta readers next week.
I'm also outlining AJ's third book (a follow-up to The Bonus) because I found Arturo a girlfriend!
What is your best method or website when it comes to promoting your books?
I think it may be Goodreads but Facebook does pretty well for me too. It's hard to tell really as I tend to do several things at once, and some people tell me they buy a book weeks or months after seeing a promo… I'm afraid it's all a bit hit-and-miss.
Do you have any advice for new authors?
Don't expect it to be easy; just have fun.
What is the best advice you have ever heard?
Get your costs paid up front.
Right, that's probably not what you meant.
The best writing advice I've heard is that you should write when you're inspired – and write even more when you're not. Writing is a skill so you've got to keep at it.
What are you reading now?
Ivan's Captive by Ann Mayburn. I'm finding it a bit of a drag, so I'm reading Cotillion by Heyer on the side. Last week I read Reaper's Property by Joanna Wylde (Now that was a fun story!) and The Persian Boy by Mary Renault, which is one of my favourites.
What's next for you as a writer?
I'm starting promotions for Murder In Moscow in March. It will be my first proper campaign so I'm very excited about it!
If you were going to be stranded on a desert island and allowed to take 3 or 4 books with you what books would you bring?
I'd take my iPad and probably kill myself when the battery died. If limited to just 4, I'd bring Lord of the Rings, Shogun and Heyer and Colleen McCullough anthologies.
Author Websites and Profiles
Storm Chase Website
Storm Chase Amazon Profile
Storm Chase Author Profile on Smashwords
Storm Chase's Social Media Links
Goodreads Profile
Facebook Profile
Twitter Account
Pinterest Account