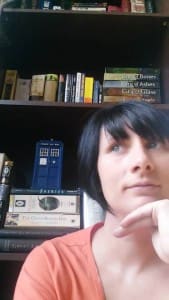 Tell us about yourself and how many books you have written.
The founder of European Geeks and a self-proclaimed nerd – Elisha is obsessed with faeries, witches, science fiction, the paranormal, and all things Buffy the Vampire Slayer & Doctor Who. Spending over a decade managing high volume businesses for others, Elisha decided to take a step back and focus on her own passions; leading her to open European Geeks Publishing. Elisha is an editor, reviewer, and freelance writer when not hard at work for European Geeks. Originally from the UK, Elisha now lives on a small family farm in Florida with her German husband and their three children, as well as an assortment of animals – peacocks, ducks, chickens, goats, pigs, and horses. Her children's book, Mr. Edmund Goat and the Elusive Clover, illustrated by Alyssa Savery, launched July 19th, 2015 and her fantasy novel, RED, is scheduled for late 2016.
What is the name of your latest book and what inspired it?
Mr. Edmund Goat and the Elusive Clover is my most recently published book. It was inspired by my daughter's goofy goats and is based on a real-life incident that they experienced.
Do you have any unusual writing habits?
I am a mother of three that lives on a farm. My kids and animals are all very loud and active during the daytime. This has led to me writing late into the night. I do my best work around midnight, when I'm reaching the brink of exhaustion from a long day. I also require music to write. I find soundtracks that are similar to the genre I am writing at the time and listen to those as I write.
What authors, or books have influenced you?
Alastair Swinnerton, author of The Multiverse of Max Tovey, has always been one of my big influences. Of course, the usuals – Anne Rice, Stephen King. I am also a big fan of Joss Whedon and Stephan Moffat as writers – even though they're screenwriters, not novelists. The Silver Kiss by Annette Curtis Klause was probably the biggest though – it was the first book I truly fell in love with.
What are you working on now?
RED – a dark fantasy that combines Pagan folklore and bits of the old, darker fairy tales (like Grimm's).
What is your best method or website when it comes to promoting your books?
I utilize Facebook a lot. The paid ads are great, as well as the book clubs and writers groups there.
Do you have any advice for new authors?
WRITE IT DOWN! The best advice I can give any author is to just write down everything – you don't know if you've struck gold or not, if you don't dig for it! Write everything down as it comes, worry about the quality after you have it down!
What is the best advice you have ever heard?
"If you don't have time to read, you don't have the time (or the tools) to write. Simple as that."
― Stephen King
What are you reading now?
"Wishing for Survival" by Jessica Marie Baumgartner, book two in the Embracing Entropy Series.
What's next for you as a writer?
Just keep writing! I plan on finishing RED and pushing it to release by the end of next year. I'm also currently (slowly) working on a paranormal short story collection.
If you were going to be stranded on a desert island and allowed to take 3 or 4 books with you what books would you bring?
The Silver Kiss by Annette Curtis Klause, City of Bones, and Heaven's Forgotten by Branden Johnson.
Author Websites and Profiles
Elisha Neubauer Website
Elisha Neubauer Amazon Profile
Elisha Neubauer's Social Media Links
Goodreads Profile
Facebook Profile