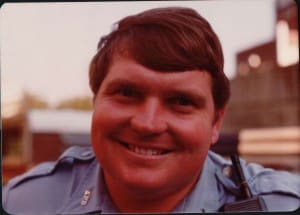 Tell us about yourself and how many books you have written.
I'm an Atlanta, Georgia, native who currently resides in Gwinnett County, Georgia, with my wife and daughter. I attended Roosevelt High School in Atlanta and continued my formal education at Mercer University in Macon, Georgia for two years. I met my future wife in Atlanta after my second year at Mercer University. My junior year I transferred to Georgia State University in downtown Atlanta.
In 1973, with new responsibilities, I became an Atlanta Police Officer while attending college full time. I attained a BA degree in English Literature from Georgia State University in 1974, and retired from the Atlanta Police Department in 1996 after a very fulfilling and personally, satisfying career.
I'm alos the author of SEVEN FISH TREE, THE YELLOW BUS BOYS, TRANSMUTATION THE LIFE OF A TWISTED COP, RED, the CRAMPED QUARTERS series consisting of MARY'S TRUNK, MARY'S JOURNEY BEGINS, MARY'S JOURNEY CONTINUES, PAUL'S STORY, and my short story THE DEAD and the DYING appears in Annie Acorn's 2015 DARK TALES.
You can follow me at @rongizmo on Twitter and friend him on Facebook. He is the author of the blog at ronshawmedia.com.
You can interact directly with me each Monday night at 8:00 p.m. as I host the Ron Shaw Show on ArtistFirst Radio Network at artistfirst.com/ronshaw.htm.
Since October 2013, I've written nine books. One of these, DARK TALES, is a horror anthology that I'm in. Within the next few months, I'll have two more books, novels, coming out. One of these is a collaborative work with Texas author D.A. Grady. The other one is the second novel in THE YELLOW BUS BOYS books. It's entitled THE YELLOW BUS BOYS GO BLUE CANADA BOUND.
What is the name of your latest book and what inspired it?
DARK TALES FROM GENS' PENS is the latest book that I have a horror short story in. It was published and edited by Annie Acorn's AA Publications. The book is out now at all venues in eBook as well as paperback formats.
This book became a reality after my daughter recommended that I write a horror or ghost book with some of the brilliant authors who have been guests on my weekly radio show. This was an excellent idea. Immediately, I began the process of picking the best young and old authors around the world to be represented in this anthology. The authors I chose, Steve Cartwright of Georgia, D.A. Grady of Texas, Joe Eliseon of Massachusetts, K. Edwin Fritz of New Jersey, William D. 'Billy Crash' Prystauk of Pennsylvania, and me are prepresented in DARK TALES. I had picked from a fine list of female authors for it as well, but they will be represented in SPIRITED TALES with Annie Acorn that'll be out next month. In this book will be Annie Acorn of Maryland, Peggy Teel of Alabama, Juliette Hill of Virginia, Angel Nichols of Florida, Christina Paul of New Jersey, and Susan Jean Ricci of New Jersey.
Both books DARK TALES and SPIRITED TALES are filled with a wide variety of short stories. There something in each for every reader.
Do you have any unusual writing habits?
No. Not really. I write when the urge strikes me, and often, I'll do so regardless of what is going on around me at the moment when the words or characters appear.
Sometimes, I'll write while listening to music for the soul by Laura Sullivan of California or killer music by Bethany Borg of Nordik Fire of Alabama. Every other blue moon, I'll partake of rock music when the story is popping off.
There's nothing very mysterious about my writing process. The one thing that is a shock to me but not unusual is when a character wakes me between 2 a.m. to 3 a.m. demanding that I peck their stories out immediately. Thank goodness, of late, they've allowed me to sleep a little longer.
What authors, or books have influenced you?
There have been far too many to list here. I majored in English Literature and thus, have read a few authors.
My favorites at this time are Dan Brown, Hunter S. Thompson, and any number of the classics like Shakespeare, Dickens, Swift and such.
What are you working on now?
I have about four or five writing projects in various stages now. I am continuing the CRAMPED QUARTERS MARY the ghost series, RED is cooking again after my first dabbling in erotica that is getting a lot of attention from readers around the globe, and a non-fiction piece entitled MY FROZEN HEART – THE BECKY DAVIS STORY.
What is your best method or website when it comes to promoting your books?
There are a few excellent ones out there like ReadersGazette.com, Authorsdb.com, SneekPeak.com, iAuthor.uk.com, beezeebooks.com, Awesomegang.com, Inspired Writers by Merrie Housdon and others.
Do you have any advice for new authors?
The first and possibly the best advice that I'd give new authors is to be bold and allow your voice to be heard. Realize that writing the book is the easiest and maybe, the greatest fun or aspect of being an author. The hard work begins after the book(s) is published.
Never give up regardless of the criticisms that are sure to come when you put yourself out there in print. Remember or learn that everyone is a critic, even you and me. Our housecat Percy is a tough critic of my work in words.
Write what you know, and if you don't know it already do tons of research. Writing is a learning, growing, and tedious process.
Embrace every aspect of it.
In short, be bold.
What is the best advice you have ever heard?
"Ron, do like me, just make some shit up!" stated an internationally acclaimed, best-selling author.
What are you reading now?
Every author who comes on my radio show provides me with a book or twelve and I try my damnedest to read them. So, with that in mind, I'm reading about eight authors now…like, Corrina Holyoake of the UK, Robbie Cox of Florida, Christina Paul of New Jersey, Vany Vetto of Australia, Jake Needham of parts unknown, Annie Acorn of Maryland, Joe Elsieon of Boston, Angel Nichols of Florida, Dorothy May Mercer of Michigan, Susan Jean Ricci of New Jersey, Suzanne L. Holko of Connecticut. Currently, I have at least twelve authors in line with around twenty of their books to read.
To answer the question specifically, I'm now reading CONFESSIONS of a TRAVEL JUNKIE by Vanya Vetto of Perth, Australia.
What's next for you as a writer?
Hopefully, I'll continue to write and publish books despite the fact books aren't selling well at the moment. If it ever becomes purely about money, I'll never write another word for print.
It's the fun of writing, of putting a book in the hands of a reader and them enjoying what I've created that keeps me going as an author. Good, bad, or indifferent, I always appreciate those who read my works. Their comments, support, and constructive criticisms are always appreciated.
If you were going to be stranded on a desert island and allowed to take 3 or 4 books with you what books would you bring?
HOW THE HELL TO ESCAPE FROM A DESERTED ISLAND would be my first choice. My second pick is the Bible. The third choices would be the collective works of William Shakespear, Sherlock Homes, and any of the huge, hernia-inducing English Anthology books out there. I'd have plenty to read for the remainder of my days in solitude.
Can I pick 3 or 4 ladies to bring with?
Author Websites and Profiles
Ron Shaw Website
Ron Shaw Amazon Profile
Ron Shaw's Social Media Links
Goodreads Profile
Facebook Profile
Twitter Account
Pinterest Account