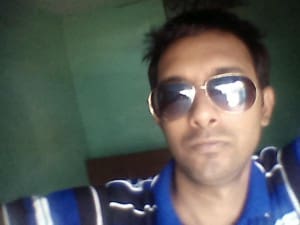 Tell us about yourself and how many books you have written.
Myself Surakri I alias S.Rama krishnan Iyer, a student of the institution known as creativity.I am professionally a non-linear video editor.But as matter of writing books,it comes to me very naturally.From the very starting i was a daily diary writer.Soon this habit turned out to be a passion which made me to write some fiction works as crime stories,poetry,social based short stories etc.Also I shot some short movies with my friends on the subjects as "SAFE DRIVING",'SELF AWAKENING' .In the field of education I am an Arts Graduate in BA ENGLISH LITERATURE.Also I had done my masters in MBA IT.
Some of the books I had written are "Super Human Brains" Which turned out to be the Best Seller in Amazon Kindle Stores then followed with another Best Seller "Twists & Turns".
What is the name of your latest book and what inspired it?
My latest book is "How to have a good relationship with your partner".The people around me,My friends,My Parents and also some married couples who had experienced same problems and also the situation which I mentioned in my book had inspired me in writing this book.
Do you have any unusual writing habits?
Not really.Just prefer to write on the balcony with some fresh air coming in.
What authors, or books have influenced you?
Mahabharata the very great ancient epic has a very powerful influence in my life as i find it a complete script in itself.
What are you working on now?
My next book.Also in a short movie which I am making.
What is your best method or website when it comes to promoting your books?
Liking all the pages on facebook or any other social networking sites and then posting the books link on them.
Through Newspaper,Tv Ads,through websites like yours.
Do you have any advice for new authors?
Just be you.Listen to everyone but follow your own instincts.
What is the best advice you have ever heard?
The more you try to hide yourself from the people around you of what you are,The less aura you will stock in you.As you are what you hide and not what you show.
What are you reading now?
I am researching on internet for my next book.
What's next for you as a writer?
"The adventure of an Informer"
If you were going to be stranded on a desert island and allowed to take 3 or 4 books with you what books would you bring?
"How to escape from desert island"
"How to survive on desert island"
If ever written
"Some mystery novels"
For passing time
Author Websites and Profiles
Surakri I Amazon Profile
Surakri I's Social Media Links
Facebook Profile