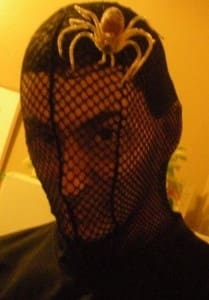 Tell us about yourself and how many books you have written.
I recently became Comet Press/Sex Files first author with a gay category book, my erotic gay thriller novella eBook BEHIND THE VELVET CURTAIN, a peek into the world of a stripper and the stalker he attracts. This was released March 2nd, and two days ago I finished my horror novel at 68,500 words.
What is the name of your latest book and what inspired it?
I am a stripper turned author, as is the main character in Behind the Velvet Curtain. (Of course, when I wrote it, I was still unpublished so it's a bit of life imitates art.) I wanted to give something real, Magic Mike the movie is a glossy, unrealistic look, this is more what it's really like to be a stripper and everything that goes with it. The "creeper" (obsessed stalker) in the book is based on a real fan, but it never got to the level it does in the book.
Do you have any unusual writing habits?
I don't write every day like everyone says I should. I almost always write very late at night with music on. Lady Gaga played while I wrote Behind the Velvet Curtain, while I switched to Depeche Mode for a darker mood when writing my horror novel.
What authors, or books have influenced you?
Definitely Stephen King.
What are you working on now?
Just finished editing/polishing my horror novel that is a nod to not another writer, but a director, Alfred Hitchcock. It's a psychological horror novel with blood and guts but also the suspense and mystery of Hitchcock. In particular, it is a modern nod to Psycho.
What is your best method or website when it comes to promoting your books?
At first it was twitter but lately more with Facebook. Giveaways and contests I've found to be very helpful, which I didn't understand at first but now I get. I've also done several interviews, which I really enjoy.
Do you have any advice for new authors?
Just keep at it, all the stories are true. Add me to the list of authors that were rejected by 20 different publishers/agents/magazines with my novella, book, and short stories before finally getting that yes. Keep writing and keep submitting.
What is the best advice you have ever heard?
Success doesn't bring happiness, happiness brings success. Do something you love.
What are you reading now?
Honestly, I'm not. I've never read less than since I've been published. I never liked reading in school. I loved writing. I'm atypical to most writers in that regard.
What's next for you as a writer?
Publishing my horror novel. I can hardly wait. This took a long time to write while what I have out now, the novella, didn't take me very long at all. I very excited to get it out there.
If you were going to be stranded on a desert island and allowed to take 3 or 4 books with you what books would you bring?
I wouldn't bring books. Like I said, I am very atypical to what most writers seem to be like. I don't read that often. Although I've loved just about every book I have read. I know I'm weird, but why read when I can write and create something myself? If I brought a book it might be To Killing A Mocking Bird, only because I have it but haven't read it. I guess I'd also bring Psycho because I've never read the book. So, OK, I will bring two books after all.
Author Websites and Profiles
Matt Converse Website
Matt Converse Amazon Profile
Matt Converse Author Profile on Smashwords
Matt Converse's Social Media Links
Goodreads Profile
Facebook Profile
Twitter Account
Pinterest Account