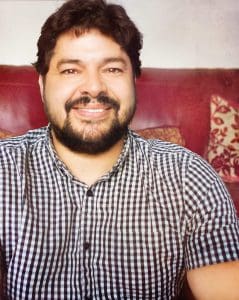 Tell us about yourself and how many books you have written.
Hiya,
The types of books I write are set in a fictional world called Rhye, of which there is a book about that you can get for FREE when you sign up to my readers group on my website.
The type of books I enjoy writing are very interactive where you make choices how the story will turn out. There is always a goal to achieve in the story and it is totally up to you how you will achieve that goal.
I first started making stories when I was seven years old at school, I have even created my own paper and pen based battle game that can be played anywhere. That's where it all started for me and when I hit fourteen, I was given a typewriter and began writing stories from then on. I have only just started to publish my work, so there is many more books to come.
What is the name of your latest book and what inspired it?
The book that is set for release on March 18th 2018, is a survival horror story where you wake up and find yourself chained to a wall in a cell. I wrote the book when I was twelve back in the 90s and its the first in a trilogy that I am releasing now, the sequel called Crypt of the Vampire and is due out in August 2018. You find out all the details on my website where you can get a FREE book to read.
I was inspired by the story because for one, I like vampires, and secondly, I was grounded as a child a lot and I needed to come up with games to play when I was on my own a lot. It fuelled my creative mind and gave me the time to come up with the ideas that I am beginning to share out with everyone finally now.
Do you have any unusual writing habits?
Yes, I have about 30 books that are finished and I am slowly beginning to release them one at a time. Right now, I am working on about five other stories and looking for illustrators to work with for future projects. I am always writing stories and coming up with ideas for interesting stories, too many to be honest. If anyone wants some, they can come and have them, Ive got enough for myself to last a lifetime. I usually find that writing a book is much like running a marathon, I need to warm up to it slowly in order to get through it. Plus I do it old school, with my hands and paper before hitting it up on the computer.
What authors, or books have influenced you?
My influences come from only a couple of places. I have been inspired by Stephen King and the creator of Lara Croft, Ian Livingstone. I used to read their books as a teenager and its now the style and genre I enjoy writing in now. But in all honesty, I write in every genre, I have many stories that are action, adventure, comedy, romance, science fiction and others. it's working through them one at a time. I love telling stories and I have learned so much from past writers and film directors such as Steven Spielberg.
What are you working on now?
Right now I am working with an illustrator to release a book this year that ties in with my other series of books that are coming out now ( 100 series) its called Lords and Kings: Blood Wars, again a story I came up with when I was about 15 and is ace because you can choose to play as one of eight different characters in the story.
Im also working on follow ups to the 100 series with new titles, which can be found inside any of my books, the first 12 have been detailed. I am also considering other projects now in the fiction genre and science fiction genre about a script I wrote about two years ago that never got filmed. Its part of a trilogy, its called HOME and its about space exploration and founding Mars, with the effects it has on the human mind. Its also a tale of a single mans journey into OCD and AGORAPHOBIA and how he deals with it. It questions reality and the human mind with what we see as real. I'm also writing episodes to a possible tv series based in my fantasy world-just in case a studio wants to option my books. hehe
What is your best method or website when it comes to promoting your books?
Head over to my website, you get a FREE book if you sign up to my Readers Group, where you will get exclusive access to future books, exclusive books that may not get released, updates on things I'm doing now and access to my entire catalogue all in one convenient location. In each book I have adverts for the free book and where to get it. Head over to www.adamjpestridge.com and pick it up.
Do you have any advice for new authors?
Look for my book called Story and how to write one, its free and will help you craft a GOOD story as opposed to one that people will not find interesting. Its a short book as an introduction into writing with an invitation to write for my series as well.
What is the best advice you have ever heard?
Success is evolved failure.
If you find a job you love, you wont have to work a day in your life.
Never give up.
If at first you don't succeed, try, try again.
What are you reading now?
I don't tend to read as much now as I did. Currently I am going through all the Fighting Fantasy Series, only because I am doing a series on them for You Tube you can check that out on my channel. Adam J Pestridge
What's next for you as a writer?
Keep on writing until I f***ing die.
If you were going to be stranded on a desert island and allowed to take 3 or 4 books with you what books would you bring?
The dictionary for future use.
The bible for the stories.
A complete collection of survival manuals/handbooks – just in case
Any Stephen King book as they are massive and would take ages to read.
Author Websites and Profiles
Adam Pestridge Website
Adam Pestridge Amazon Profile
Adam Pestridge's Social Media Links
Facebook Profile
Twitter Account