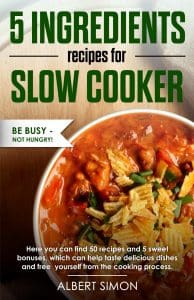 Tell us about yourself and how many books you have written.
My name is Albert Simon and I am a cooker with 10 years experience. I am pleased to say that the recipes I advise are very interesting and tasty. I hope everyone who looks through my books will have pleasure in cooking. I wrote 1 book but in the nearest future planning to make more books for you. Thanks for the interest, have a good day!
What is the name of your latest book and what inspired it?
Here is the name of my book: 5 Ingredients Recipes for Slow Cooker: Be Busy – Not Hungry!
I was inspired by a cooking process as I am a chief cooker and really love my work!
Do you have any unusual writing habits?
As for me not, but you know in our beautiful world there are many different tastes of writing.
What authors, or books have influenced you?
My father, he is also a chief cooker.
What are you working on now?
I am working on my next book.
Author Websites and Profiles
Albert Simon Amazon Profile