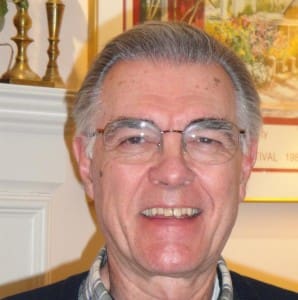 Tell us about yourself and how many books you have written.
I have gone from research to anti-poverty programs to university professor to business owner to software project manager and to writing in search of meaning in life. I have found it in the writing.
I just finished my second book for the public: American Amazons: Colonial Women Who Changed History. The first was: Pilgrims To Patriots, A Grandfather Tells The Story. They are the first two in my Grandfather Series. Prior to those, I wrote over 100 books, manuscripts and technical manuals for a variety of clients.
My wife and I have been happily married for over 50 years. We have two children and two grandchildren, all of whom are successful as people and in their careers. I have a Bachelor's (Political Science) and Master's (Public Administration) from the University of California at Berkeley. I grow roses, play golf when I can and try to keep up with current events.
What is the name of your latest book and what inspired it?
I wrote American Amazons because women achieved great things during the Colonial American period but weren't being recognized. In researching my last book, Pilgrims To Patriots, I came upon stories of such women and I included some of those in that book. But, there were others and, the more I researched, the more I found. I had to tell their stories.
Some of these women are familiar to us, but, there are far more who rarely get recognition outside of the small circle of women's historians, and not even then with several. Abigail Minis? Mary Crouch? Elizabeth Key? They're not exactly household names, but their stories all deserved to be told. To me, they're all American Amazons.
Do you have any unusual writing habits?
I write on my computer. I refer to primary sources for most of my research and most of those are online. So, I often have five or six sessions open to various primary source websites in addition to my manuscript. I also have books and handwritten notes open all about me. My wife calls me the Mad Writer thumbing through one book or another, clicking this site or that, with my hair sticking out in every direction.
What authors, or books have influenced you?
Robert B. Parker comes first, believe it or not. All of my history is written in dialogue – a grandfather tells his grandchildren the history of the colonial period in a series of story times. The simplicity of Parker's dialogue has taught me to pare down the conversation.
Milton Erickson helped me to understand how human emotions work. I am after feelings, as much as the transmission of history. By the middle grades, grandchildren have started to turn their attention away from their grandparents, and parents, for that matter. I aim to provide the means by which grandparents and parents can strengthen the bonds.
David McCullough and Ron Chernow have modeled good story telling for me. They weave carefully and thoroughly researched events into tableaus that speak to the human spirit. And, they provide as neutral a treatment of the times as any, not appearing to place agenda before honesty.
What are you working on now?
I am researching for the next volume in my Grandfather Series. I also have three or four other projects in various stages of development, depending on how you count. Until I have completed the research for a particular work, my choice of project on any day is a feelings thing. My gut tells me what to do and I listen. Once I have finished the research, more or less, I concentrate solely on that project until it is done. Occasionally, I "see a squirrel" and run off in pursuit of it.
What is your best method or website when it comes to promoting your books?
I have found that I do best at personal contact but it is exhausting for me and I have had to reduce the frequency of that sort of thing (I dress in period costume, bring sound effects and a cobbled together cannon).
I am still learning about digital marketing. I have a blog – Freedom's Foundry – but I seem unable to figure out how to make the most of it. My grandchildren think of me as a Luddite and, for the most part, they are right. I am somewhat active in social media, but I fear that I am not joining in to their full extent, either. Except for Twitter. I have yet to think that anyone would care what I have to say at any given moment. I know, I don't get it.
Do you have any advice for new authors?
Write.
Be open to the truth about your writing.
Get an editor – one who will tell you the unvarnished truth and who will charge you for it.
Do what your editor tells you to do.
Expect to make your own decisions about where all this might take you and do your own work in getting there. The publishing industry isn't what it used to be, if it ever was. Each of us has to promote ourselves in the ways we think best.
What is the best advice you have ever heard?
Always get up again.
Make the most of every day.
What are you reading now?
I would be reading Robert B. Parker, if he were alive. Sadly, he took his brilliance and his characters with him. I still have feelings of grief for all of them from time to time. The ersatz doesn't do it for me.
I am always reading primary source materials, mostly 17th and 18th century stuff. Two of the most comprehensive sources are:
National Archives (The "Rotunda")
http://www.archives.gov/museum/visit/rotunda.html
On-Line Library of Liberty http://oll.libertyfund.org/#founders
I choose my secondary sources carefully. An interesting one that I just finished is Between Two Worlds – How the English Became Americans, by Malcom Gaskill – a Brit. He describes the Colonial Period from an English viewpoint. It is extensively researched and assesses the history in terms surprisingly close to ours.
What's next for you as a writer?
To write for as long as I am able. Other than the projects I have in the hopper, I'll wait for inspiration from the Muse.
If you were going to be stranded on a desert island and allowed to take 3 or 4 books with you what books would you bring?
The Bible
Parker's Western Series or maybe Jesse Stone
Any really thick coffee table book – one with pages that would burn hot and bright and long.
Author Websites and Profiles
Alex Bugaeff Website
Alex Bugaeff Amazon Profile
Alex Bugaeff's Social Media Links
Goodreads Profile
Facebook Profile