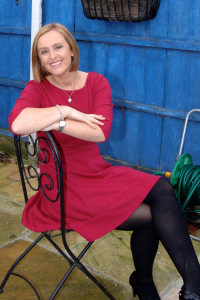 Tell us about yourself and how many books you have written.
Amy Lynch is an author of women's commercial fiction and writing is her passion. She loves to write humorous romantic fiction, but not always with fairy tale endings! She has published fiction in magazines, and has worked in the charity sector for twelve years. She is married with two young children. When she is not writing, Amy can be found juggling school lunches and two Shetland pony-sized rescue dogs. Now, how's that for multi-tasking? Amy is the author of two novels, Bride Without A Groom and Does My Bump Look Big In This? Her third novel is in progress. www.amylynchauthor.com Twitter: @amylynchauthor
What is the name of your latest book and what inspired it?
Bride Without a Groom is my debut novel – it's a bridezilla comedy set here in Dublin, Ireland. I am often asked what inspired me. Confession time! I may have been a mini bridezilla myself back in the day. I didn't take it as far as my main character Rebecca, who has the wedding dress and invites ready before the proposal!
Do you have any unusual writing habits?
I'm juggling a part-time job, two young children, a hubby, two rescue dogs and a massive laundry pile. I write whenever I can snatch the time – even if I'm on a laptop in a busy play café!
What authors, or books have influenced you?
I adore Jojo Moyes, Sophie Kinsells and Claudia Carroll – light and fun.
What are you working on now?
I am editing the next book in the series, 'Does My Bump Look Big In this?', where we see Rebecca coming to terms with becoming a mother. There will be a third book in the series also.
What is your best method or website when it comes to promoting your books?
I am constantly on Twitter @AmyLynchauthor and Facebook www.facebook.com/AmyLynchauhtor
Do you have any advice for new authors?
you can see my TOP 10 TIPS for bagging a book deal on www.amylynchauthor.com
I have lots of advice for aspiring authors.
What is the best advice you have ever heard?
Keep knocking on doors until someone answers – in other words, persist until you are published. Determination gets results!
What are you reading now?
the Island Escape by fellow Harper Collins author Kerry Fisher
What's next for you as a writer?
I'm hoping that the next step for me as a writer will be to make writing my full-time job. I'd love to be able to drop the children to school, go home and write. One day!
If you were going to be stranded on a desert island and allowed to take 3 or 4 books with you what books would you bring?
Matilda, roald Dahl – for old time's sake!
Confessions of a shopaholic, Sophie Kinsella – for fun!
Me Before You, Jojo Moyes – for a good cry!
Author Websites and Profiles
Amy Lynch Website
Amy Lynch Amazon Profile
Amy Lynch's Social Media Links
Facebook Profile