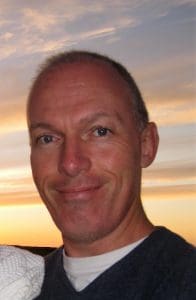 Tell us about yourself and how many books you have written.
Hi, I never intended to become an author. I've been a part-time soldier, worked in a bank, been an engineer in The Royal Navy, and served as a Police Officer in Lincolnshire, UK. I gave it all up to work as a SCUBA Instructor, travelling the world, following the sun, season to season. Now, in later years, I have chosen to write about my various adventures. I currently live in Staffordshire, UK, with my wife and two daughters. I have only written one book to date, but there are others in the pipeline…
What is the name of your latest book and what inspired it?
My latest book is called, "Beyond the Waves: My Royal Navy Adventures." It was inspired my me… It is the first in "The Memoir Series," a series of books recounting various adventures throughout my life. This first volume tells of my years serving in the Royal Navy, travelling the world, and the adventures encountered along the way.
Do you have any unusual writing habits?
Not that I know of…
What authors, or books have influenced you?
Anything by Dan Brown, Alistair MacLean, and of course, JK Rowling.
What are you working on now?
I am currently working on volume two of my memoir series which covers my years in the Police Force. It is in the very early stages at the moment.
What is your best method or website when it comes to promoting your books?
I am a brand-new author, so I am still in the experimental stages when it comes to promoting books. Anything, and everything is a valid means at the moment.
Do you have any advice for new authors?
Keep writing – worry about the formatting, promotion, and marketing at a later date.
What is the best advice you have ever heard?
Just Write…!
What are you reading now?
"The Girl in the Ice."
What's next for you as a writer?
To complete my Memoir Series of books and get them successfully promoted, then to move on to writing a thriller style novel based on my experiences.
If you were going to be stranded on a desert island and allowed to take 3 or 4 books with you what books would you bring?
I'd need to think about that one…
Author Websites and Profiles
Andrew Heasman Website
Andrew Heasman Amazon Profile
Andrew Heasman's Social Media Links
Goodreads Profile
Facebook Profile
Twitter Account