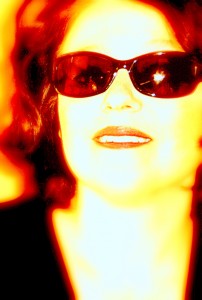 Tell us about yourself and how many books you have written.
I'm a small town girl at heart with a love for the ocean, mountains, dogs, and good books that take me on fantastic journeys. My mom loves to read murder mysteries and her sister loves urban fantasy. My husband wishes he had been an archaeologist and all of these influences find their way into my books. I have written three full-length novels, one short story, and a novella and I'm certain I have dozens more books in me, but the trick is finding the time to write them!
What is the name of your latest book and what inspired it?
My most recent book is Fortunes Bought and Sold and it was inspired by a vacation I took to Salem, MA with my family. Wandering the pedestrian mall, I realized it would be a cool location for a book and my North Shore heart knew I had to put a psychic in that location. I read several stories about the art heist at the Isabella Stewart Gardner museum in Boston, and those stories inspired part of the plot for FB&S. I love art, a good psychic, and twisted plots so the book was a joy to write. It also gave me a great excuse to go back to Salem several times just to soak up some atmosphere!
Do you have any unusual writing habits?
I have never, never, never been a morning person until I started writing. My books get me out of bed as early as three a.m. because I simply MUST finish a chapter or start an outline before I go to work. Then I think about the story on the commute and make little notes to myself so I have something to work from the following morning. The part I struggle with the most is crafting the book blurb so lately I've started making that one of my first priorities. It not only frames the story for me, but having it done takes the pressure off when I'm ready to publish.
What authors, or books have influenced you?
Wow – there have been so many! Most recently, I picked up "Playing for Pizza" by John Grisham – it nearly ruined my fourth of July barbecue because I was so engrossed in the story that I almost burned dinner! The story is so well crafted it gives you a feeling of actually being in Italy. Other writers I've been inspired by are Kelley Armstrong, Kim Harrison, Colleen McCullough, Jim Butcher, Faith Hunter, and Anne Rice. If you're thinking the one name that doesn't fit is Colleen McCullough, pick up the Master's of Rome series – it's as engrossing as any magical fantasy tale I've ever read.
What are you working on now?
Right now, I'm finishing Legendary Magic, the third book in my Relic Hunter series. Arienne Cerasola wakes me up in the middle of the night to remind me that the book needs to be finished but I'm a painstaking editor! I relate to Ari's independent nature and I've had my share of disappointments in life as well. I think above all, Arienne's an optimist and in Legendary Magic I give her the freedom to make her own choices, despite having the one thing she really, really wants dangled in front of her.
What is your best method or website when it comes to promoting your books?
I love Awesome Gang and although I was a reluctant Facebook joiner, I've found a great community of people who really want to support Indie authors. I was amazed that I have found so much advice, so many tips, and so many supportive people through these venues. It's really given me courage and just the right amount of positive pressure to finish books and make sure they're the best they can be. Some other Facebook sites that deserve a shout out are NerdGirl and Mad About Books as well as Discover Authors- these are great places with supportive people who really want to help an indie out!
Do you have any advice for new authors?
I had Elementary Magic finished and ready for publication for at least eight months before I clicked the "publish" button on Amazon.com! I was so afraid that nobody would like it and that I'd get discouraged, but what happened really changed my life. I read my first review and actually cried happy tears because it was a "Solid 4.5 stars" and with that phrase I was addicted. I think the most important thing for new authors is to take that leap after you've revised your book for the tenth time. I am a ruthless editor and even I pulled my book and re-edited after it was published because I found a few mistakes!
What is the best advice you have ever heard?
I think it was Colleen McCullough who confessed that after she finished writing a book she put it away for about a year before she began editing. I can't keep my hands off of my book for that long, but I have found that three or four months is enough time for me to forget the passages I've written so I see them with fresh eyes. I have read sentences dozens of times while writing and thought "Yeah, that makes sense" only to put it away for months and then read it again and think "where was I going with that???"
What are you reading now?
I'm reading The Monuments Men: Allied Heroes, Nazi Thieves, and the Greatest Treasure Hunt in History by Robert M. Edsel. My husband has a passion for WWII history and every now and again he recommends a book to me. He hasn't been wrong yet!
What's next for you as a writer?
Oh, I have tons of notes about stories I want to write! I'm feeling a few angels, past lives, and legal dramas coming on…it's tentatively called "Ruffled Feathers" and I think it's going to be a HOOT!
If you were going to be stranded on a desert island and allowed to take 3 or 4 books with you what books would you bring?
Kim Harrison's The Undead Pool
Colleen McCullough's Fortunes Favorite
Marsha Canham's Across a Moonlit Sea
Stephan Talty's Agent Garbo: The Brilliant, Eccentric Secret Agent Who Tricked Hitler and Saved D-Day
Author Websites and Profiles
R. Leonia Shea Website
R. Leonia Shea Amazon Profile
R. Leonia Shea Author Profile on Smashwords
R. Leonia Shea's Social Media Links
Goodreads Profile
Facebook Profile
Twitter Account
Pinterest Account