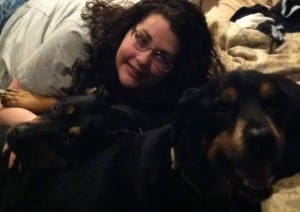 Tell us about yourself and how many books you have written.
I am a fantasy, science fiction, and romance writer, who has published four novels and three short stories. I am also a nerdy housewife who regularly posts on facebook about her love of dogs.
What is the name of your latest book and what inspired it?
My newest release is called "Bright's Passion." I was inspired to write it through facebook. I kept seeing all these romantic posts about the sun and the moon. How if they were in love, it would be both beautiful and tragic because they'd forever chase each other. I wanted to write a romance novel about a sun god who fell in love with a girl that was trapped in the night. It turned into a story about a love triangle between the god of the sun, the god of the moon, and a witch.
Do you have any unusual writing habits?
No. I have the usual writer habits of writing in my pajamas, while I pet my dog and check facebook on occasion.
What authors, or books have influenced you?
A lot of authors and books have influenced me. I've loved to read since I first learned how and I've read a lot of books in all the genres that I write in. I also listen to the advice of authors that I've spoken to and have learned a lot from them, especially when they critiqued my writing.
What are you working on now?
I'm working on finishing up the trilogy I decided to publish this year and also editing a novel that I had previously put aside called "Spirit Speaker." It's a YA novel about necromancers.
What is your best method or website when it comes to promoting your books?
If you give away some of your books for free, it allows people to sample your work and if they like it, they'll pay for your other books. It works better than any other type of promotion that I've tried.
Do you have any advice for new authors?
Write every day and you'll finish your book. Writing is a marathon, not a sprint. You may not feel like writing on some days, but if you force yourself to write every day, even a little bit, eventually it will become a habit.
Also, don't worry about it if the things you write are terrible. You can fix bad writing, but you can't fix a blank page.
What is the best advice you have ever heard?
About Writing?
To take it one day at a time. Sometimes I wish I could get things done faster and I get frustrated, but you have to focus on what is in front of you right now.
What are you reading now?
I'm reading some science fiction romance novels by Erin Tate, "The Watchtower", a paranormal novel by Darke Conteur, and "Forbid Me" By M. Robinson. I love to read speculative fiction and romance novels. I read the same things that I write.
What's next for you as a writer?
I already finished the second book in the God Of Light Series (Bright's Passion is #1 and Night's Lust is #2.) It has the same release date as the first book, March 20th. The series is going to be a trilogy eventually and I'm in the middle of writing the third book right now. I hope to publish that book later in the year along with a paranormal novel about necromancers called "Spirit Speaker."
If you were going to be stranded on a desert island and allowed to take 3 or 4 books with you what books would you bring?
1. "Jane Eyre" By Charlotte Bronte
2. "Frankenstein" By Mary Shelley
3, "Harry Potter And The Deadly Hollows" By J.K. Rowling
Author Websites and Profiles
E.B. Black Website
E.B. Black Amazon Profile
E.B. Black Author Profile on Smashwords
E.B. Black's Social Media Links
Goodreads Profile
Facebook Profile
Twitter Account
Pinterest Account