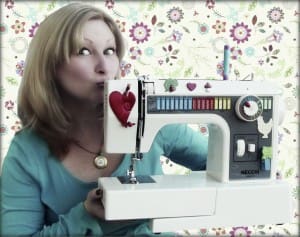 Tell us about yourself and how many books you have written.
I'm a quirky Canadian creator who lived a most extraordinary existence in North America, Japan, England and Greece before finally settling in Germany. I am in no way a professional seamstress but as I was gifted an elderly sewing machine, decided to dust off some brain cells, clean out my wardrobe & have a go at re-creating old clothes & upcycling thrifted fabrics into cool new gear!
– Which led to the creation of my craftilicious blog: http://awesomesauceasshattery.com/ and groovy DIY youtube channel: http://www.youtube.com/user/MenschTs
I have written the first 2 tutorial-packed books in my Confessions of a Refashionista series and, as my Refashionista brain is constantly coming up with new creations, I have loads more books planned!
What is the name of your latest book and what inspired it?
My second fabulous tutorial book, Confessions of a Refashionista: Bewitched Bedsheets, was inspired by all of the gorgeous vintage bedding I continually discover while thrifting and the funky, floaty fashions of the 1970's.
Do you have any unusual writing habits?
I'm at my writing best plugged into my MP3 player with toes tapping & fingers typing in time to the groovy sounds of 80's new wave.
What authors, or books have influenced you?
Neither an author or book but my Grandmother, she had 11 children & is definitely my refashioning role model! This clever lady would take a worn out shirt from one of the boys & turn it into a sweet dress for one of the girls… using only an old fashioned pedal sewing machine & hand stitching!
What are you working on now?
I'm currently designing & creating for the next 2 books in my Confessions of a Refashionista series: Marvelous Munchkin Makes & Awesome Accessories
What is your best method or website when it comes to promoting your books?
I've found that reaching out to my fellow bloggers is not only a fantastic method to help spread the word about my books & receive fabulous reviews but also a wonderful way to form international friendships & establish great connections.
And a website? Why of course it's the Awesome Gang!
Do you have any advice for new authors?
Promotion, promotion promotion! Creating an online buzz about your book (& yourself) will lead to sales.
There are so many fantastic sites (like the Awesome Gang) that generously give their services to authors…use them, contact like minded bloggers, take advantage of Amazon's KDP Select free days & get the word out!
What is the best advice you have ever heard?
Don't believe that negative little voice at the back of your brain that tries to tell you you're not good enough…it is lying.
What are you reading now?
At present I have 3 different books on the go, all by Christopher Fowler.
What's next for you as a writer?
Creating, creating, creating (with some promotion thrown in for good measure =O)
What is your favorite book of all time?
My Clive Barker Books of Blood collection has travelled with me to every country I have lived in and are always good for a stormy evening in, curled up on the sofa with a cup of spiced chai.
Author Websites and Profiles
Sheri Pavlovic Website
Sheri Pavlovic Amazon Profile
Sheri Pavlovic's Social Media Links
Facebook Profile
Pinterest Account