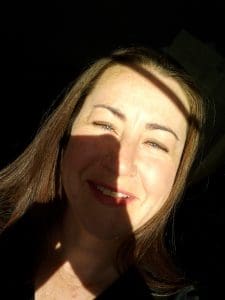 Tell us about yourself and how many books you have written.
I'm an avid gamer and sci-fi/fantasy fiction fan. Over the course of my career, I've been a newspaper reporter, movie reviewer, bartender, tarot reader, magazine editor, advocacy trainer, instructional designer, service delivery manager, and more. What I should have probably been was a video game designer.
What is the name of your latest book and what inspired it?
Dead in the Water is the name of my latest book (released May 31, 2019). It is the ongoing progression of my series, but it's also an exploration into the mythology and lore of the Scandinavian "draug" as well as a well-loved (if such a thing can be said) Lovecraftian monster.
Do you have any unusual writing habits?
Well, I have a full-time job, so my unusual habits are around using every spare minute…evenings, weekends, and vacation time to write my stories.
What authors, or books have influenced you?
I'm a big fan of a few well known urban fantasy authors, e.g., Jim Butcher, Kim Harrison, etc., but it was Dorothy Dunnett (Lymond Chronicles) and Susan Cooper (The Dark Is Rising Sequence) who have written the books that have captured my imagination from a very, very young age.
What are you working on now?
Since I just released the third book of the Unofficial Legends of The Secret World, I am starting to dig into research for the next book.
What is your best method or website when it comes to promoting your books?
Boy, don't I wish I knew. 😉 I have my author website: https://blodweddmallory.com/ as well as Facebook and Twitter sites, but I'm still looking for the magic means to get my series into the hands of readers who will enjoy them.
Do you have any advice for new authors?
Write. And read. A lot.
What is the best advice you have ever heard?
I had the pleasure of hearing Neil Gaiman speak recently and he said something about revisions that I found to be very helpful and profound in its simplicity. He said essentially this: Get the first draft written as fast as you can. Then, when you go back to revise, make the story more of what it is and less of what it is not.
What are you reading now?
A lot of LitRPG. Also, I just finished Necropolis PD by Nathan Sumsion and hope to get a review up about it today.
What's next for you as a writer?
Well, I've been a writer in one capacity or another my entire life, so I guess that means, more writing! 😉
If you were going to be stranded on a desert island and allowed to take 3 or 4 books with you what books would you bring?
Can I just bring my Kindle with the thousands of books on it? I would really like to bring the next Jim Butcher and the next Patrick Rothfuss, but of course, that would mean they'd have to finish them.
Author Websites and Profiles
Blodwedd Mallory Website
Blodwedd Mallory Amazon Profile
Blodwedd Mallory's Social Media Links
Goodreads Profile
Facebook Profile
Twitter Account