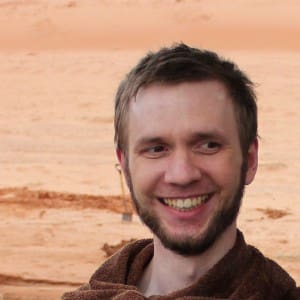 Tell us about yourself and how many books you have written.
Hi, my name is Clark Nielsen. I'm an American-born author, though my first major book was actually about China. I lived in China (off and on) for two years and wrote a memoir about teaching English there. I've also written two other travel-related e-books, two full-length sci-fi/fantasy novels, and four more smaller fantasy e-books.
What is the name of your latest book and what inspired it?
The last e-book I published was the third and final part of my Hazel Haven fantasy series. Part 1 was inspired by the Japanese anime, Ranma 1/2, while Parts 2 and 3 were more heavily influenced by the show One Piece.
Do you have any unusual writing habits?
There's probably nothing unusual about drinking whiskey and listening to instrumental music while you write. But in those moments when I get major writer's block, I'll try taking my laptop to the park and tinkering away until the battery dies.
What authors, or books have influenced you?
David Sedaris and Bill Bryson have been the biggest inspiration when writing my travelogues. As I mentioned earlier, the Hazel Haven series was based on Japanese cartoons. My sci-fi novel, Camping on Other Planets, however, was inspired by Jack Vance's Planet of Adventure books.
What are you working on now?
I'm actually taking a break from writing to focus on other endeavors. Currently, I'm working on a PC game called Build 'n Bump. I'm a pretty big gaming nerd, and I do a lot of indie game development in my free time. I guess writing code is still writing, isn't it?
What is your best method or website when it comes to promoting your books?
Ha! I'm still trying to figure that out… My own blog was great for establishing early interest in my travel books, though.
Do you have any advice for new authors?
There's no disgrace in self-publishing, but don't go into it expecting to get rich. Do it, because you love to write. It's very likely you'll only make enough money each month to pay off 1-2 utility bills.
What is the best advice you have ever heard?
"Write more books." This has been common advice in many author forums I've visited. Why waste time fruitlessly trying to advertise yourself when you could be writing your next great novel?
What are you reading now?
I've been reading financial books more than anything right now, but I do have a very large back catalog of travel memoirs I've been meaning to tackle.
What's next for you as a writer?
If I see better sales of my sci-fi and fantasy books, I have a few more older stories I'd like to revisit and flesh out. Otherwise, I may hold off on doing any more writing until I have another big overseas adventure to talk about.
If you were going to be stranded on a desert island and allowed to take 3 or 4 books with you what books would you bring?
Joke books, probably. I'm not really one to read the same novel over and over, and… hey, if I'm going to be stuck on a deserted island, I'll need something to keep me laughing.
Author Websites and Profiles
Clark Nielsen Website
Clark Nielsen Amazon Profile
Clark Nielsen Author Profile on Smashwords
Clark Nielsen's Social Media Links
Goodreads Profile
Facebook Profile
Twitter Account