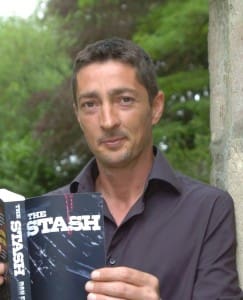 Tell us about yourself and how many books you have written.
I was brought up in Africa and lived in South Africa, Swaziland, Zimbabwe and Nigeria, as well as Canada, Spain and the UK.
Author of DAWN OF DECEPTION and THE STASH, my love for thrillers started at an early age due to the lack of any TV. I currently live in Wiltshire with my partner Clare and our 6 children.
What is the name of your latest book and what inspired it?
Dawn of Deception is a book that I spent years researching and writing, it delves into the world of international poaching syndicates and political corruption in Kenya. The historical background of ethnic cleansing and the criminal methods employed are accurate and well documented.
David Nbeke and the other characters are fictitious, although the evil mastermind Maliki is based on someone I met in Nairobi who had failed the lion hunt, bore the scars, and been ostracized from his tribe – unlike Maliki he was a warm and gentle soul. Although the history gives the characters more depth and motivation this is in essence a high-octane thriller as David Nbeke fights for justice and his own survival.
Do you have any unusual writing habits?
I immerse myself totally in a book whether I am reading or writing it. Sometimes when I am writing I stay awake for 3 days on end when the words won't stop pouring out and have to remind myself to eat and drink. I often have dreams where I am one of the characters, usually David, and wake up with fresh ideas to be developed or disregarded.
What authors, or books have influenced you?
The first books I remember reading are Enid Blighton's Famous Five series & The Hardy Boys, which got me interested in reading and the escapism it offers – not that I had anything to escape from, I just enjoyed the adventures.
When I was about 11 years old I moved on to Wilbur Smith, loved the Courtney and Ballantyne books as we lived in South Africa and Zimbabwe where they were based. Also read all of Terry Pratchett's, Alistair Maclean, Agatha Christie's and Stephen King's books as a teenager.
Other authors that I love to read and have influenced me in one way or another are; Eric Van Lustbader, Frederick Forsyth, Ian Rankin, George Orwell, Jean Jaques Rousseau, Robert Ludllum, Jack Higgins, James Douglas, Leon Uris, James Patterson, & Lee Child to name but a few.
What are you working on now?
I'm editing the first draft of DIVIDED THEY FALL, the sequel to DAWN OF DECEPTION, and hoping to have the book ready for release this summer.
The sequel develops David's character as he accepts Director Tanui's invitation and moves from the Kenyan Wildlife Service to the General Service Unit, a paramilitary wing of the Kenyan police. David teams up with Clarissa May of the CIA in a hunt for Al-Qaeda terrorists in the run up to the 1998 embassy bombings in Nairobi and Dar-es-Salam.
What is your best method or website when it comes to promoting your books?
Blog and keep blogging, the more places you post your work the more people you reach.
Do you have any advice for new authors?
A great tool for me was a website called youwriteon where authors upload the first 3 chapters of their book and have it critiqued by other writers. This gives you excellent feedback at the development stage and the advice and experience of other authors helped to develop my writing. As part of the process you review other writers work and learn techniques from them.
My main advice would be to have a long break once you have written the first draft – I become so immersed in the project that I can't see the woods for the trees and need 6-12 months to be able to recognise the mistakes.
What is the best advice you have ever heard?
Always trust your own integrity – if you think it's a bad idea then it probably is.
What are you reading now?
ANOTHER MAN'S WAR by Barnaby Phillips
What's next for you as a writer?
Completing the David Nbeke series is top priority, after that I have 2 spin off series in mind – one starring Clarissa May, David's partner in DIVIDED THEY FALL & SWAHILI SUNSET (the final book in the trilogy) – the other starring CIA Agent Sean McGuire, another character from DIVIDED THEY FALL.
If you were going to be stranded on a desert island and allowed to take 3 or 4 books with you what books would you bring?
I'm practical and there is only so many times you can read the same book, no matter how good it is, although I'm an experienced camper I would take;
Ray Mears: Outdoor Survival Handbook
Patrick Moore – Navigating the Night Sky
SAS Survival Guide: How to survive in the Wild, on Land or Sea (just in case I want to build a raft as well!)
Author Websites and Profiles
Dan Fletcher Amazon Profile
Dan Fletcher's Social Media Links
Goodreads Profile
Facebook Profile
Twitter Account