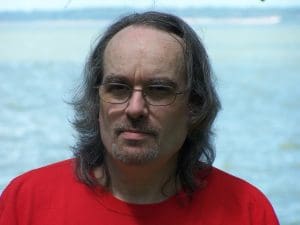 Tell us about yourself and how many books you have written.
I am a new author with two books under my belt and a third 60% completed. I have lived in East Texas all my life. I am 69 years old (still feel young inside though) and retired. Having spent the majority of my career as a Technical Writer, it was a natural step to fiction writing in my retirement. For two years in the 90's, I authored five screenplays. I spent a year farming them out and, other than some truly positive rejections, no bites. I am a voracious reader who consumes four to five novels a month.
What is the name of your latest book and what inspired it?
My latest published book is Idimmu. It is written from whole cloth and is a horror novel. It could be described as a creature feature. The genesis of the idea came from reading and researching about true-mirrors and psychomanteums.
Do you have any unusual writing habits?
I am a care provider for my wife, so my writing time varies greatly. I must write in silence, no TV, music and the like. I do not plot out my stories. I usually have a beginning and end in mind, then I just write, letting the characters guide me.
What authors, or books have influenced you?
The biggies would be King and Koontz. I have discovered many great authors once I bought my first Kindle. J.A. Konrath, Blake Crouch, Joe Hill, Jack Kilborn, David Wong, to mention a few.
What are you working on now?
Currently working on the sad story of a chronic Epileptic sufferer, since he lost his parents in a severe car wreck. The ensuing induced coma and surgeries has left him a cave dweller in his own lonesome home. It also changed his brain in some astounding yet mostly unknown ways. Enter a surgeon with an advanced quantum-level technique and some highly advanced chemicals who will attempt to cure the poor guy. Nothing goes to plan (as these things go) and a terror is released upon the world.
What is your best method or website when it comes to promoting your books?
I haven't gone beyond Kindle Select, so far.
Do you have any advice for new authors?
Same as they always hear. Write and write and write. In between those, read and read and read. Also, the Internet is your friend (in so many ways.)
What is the best advice you have ever heard?
Don't overthink any writing session. Just utilize stream-of-conciousness and get it down. It can be modified or even deleted later. Don't concern yourself with grammatical perfection. That is for futue editorial passes.
What are you reading now?
From Away by Phoef Sutton.
What's next for you as a writer?
My forth book has been entirely researched and I am anxious to start on it. At the heart of it is an ability to control dust via the quantum mind.
If you were going to be stranded on a desert island and allowed to take 3 or 4 books with you what books would you bring?
Stranger in a Strange Land by Robert Heinlein, The Stand by Stephen King, The Vampire Lestat by Anne Rice, Phantoms by Dean Koontz.
Author Websites and Profiles
David Mayo Amazon Profile