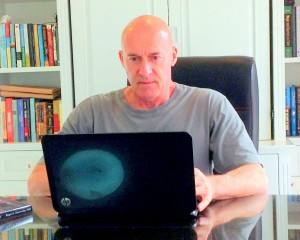 Tell us about yourself and how many books you have written.
I've been writing since 2007 in two genres – self-help/motivational and action/adventure. It seems like a strange combination, but the hero of my action books uses the basic principles of success found in my self-help books to overcome adversity and the bad guys as well.
In total, I have fifteen books listed on Amazon and there are three more being edited at this time. These will be released throughout 2016.
What is the name of your latest book and what inspired it?
My latest book, Fire on the Plains of India (Book III in the Memoirs of Nathanial Kenworthy series) was just uploaded December 8, 2015 to Kindle/Amazon.
.
My inspiration for this book came after reading the epic tale, The Mahabharata, This is an ancient text written about a civilization that waged war with atomic weapons and laser guided missiles 5000 years before our modern military machine 'invented' them. It makes for a tantalizing subject!
Do you have any unusual writing habits?
I don't think I have any unusual habits – I get up at around 6 am and immediately sit down and start writing. I don't spend much time planning the events in my writings. I really enjoy the thrill of how the plot, characters, and so forth grow organically. That's the biggest thrill and then going over what I wrote that day and wondering where the ideas originated from.
What authors, or books have influenced you?
Many have influenced me but mainly the icons of the New Thought Movement who wrote about the divinity and possibility that resides within each of us. This list includes the works of Phineas Quimby, Thomas Troward, James Allen, William Walker Atkinson, Wallace Wattles and a host of others.
What are you working on now?
I'm working on Book VI of the Nathanial Kenworthy series at the moment. I don't want to give too much away but in this next exciting book in the series, Nathanial travels back in time and meets the great Mongol ruler Genghis Khan. It was very interesting doing the research for this one, I learned a lot of the ancient Chinese customs and methods of war from what I read.
What is your best method or website when it comes to promoting your books?
I find that offering a free book on Amazon, linked to my website (rogerkenworthy.com) where a reader can receive a second free book helps grow my list. The readers who join my New Releases Readers' Group appear to be as passionate about the Nathanial Kenworthy series as I am about writing it. There is an exchange of positive energy which really helps to keep me focused upon the project at hand.
Do you have any advice for new authors?
I think that it's important to remember why an author starts to write – the original passion that you have for the first book should be just as strong for your last book.
I'm not sure looking at writing as a business is best but each to their own.
Myself, I wrote from 2007 until 2013 (without earning a penny) when I finally downloaded my first book to Amazon. I wrote just for the love of writing, and that helped me in creating my new writings.
What is the best advice you have ever heard?
Fall in love with each book you write – that way you can keep your motivation to get your story told.
What are you reading now?
At the moment, it's a book called Tao Te Ching, written by Lao-Tzu, a 6th Century Chinese philosopher. Robert Brookes, the translator of this epic work, does an excellent job of passing along the ancient messages to the present day in a easy to understand translation.
It's a great read with loads of practical advice to become an enlightened person by following the Tao.
What's next for you as a writer?
My first love is writing, but I just created my new website, quadrantofsuccess.com. This site will focus upon helping others achieve success in their personal and professional lives.
I'll have my self-help/motivational books there as well as e-courses, podcasts, coaching and past life regression therapy. It's going to be exciting to see how I can help others achieve their wants and dreams.
If you were going to be stranded on a desert island and allowed to take 3 or 4 books with you what books would you bring?
That's a tough question, but I searched my tablet and here's my top choices that I would not want to be without. They are as follows:
The Prophet (Kahlil Gibran),
Journey of Souls (Dr. Michael Newton),
The Book of Mirdad (Mikhail Maimy),
and Tao Te Ching by Lao-Tzu.
Author Websites and Profiles
(Dr.) Roger Kenworthy Website
(Dr.) Roger Kenworthy Amazon Profile
(Dr.) Roger Kenworthy's Social Media Links
Facebook Profile