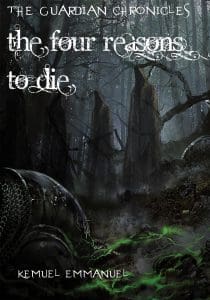 Tell us about yourself and how many books you have written.
I am a guy who is trying his pen and have written the second sequel to the guardian chronicles series tilted THE FOUR REASONS TO DIE and will be releasing it on Kindle stores by the first week of July. The third sequel is on the way and it is titled KIBROTH HATTAAVAH; the cravings of the grave. I wish y'all to support me cos am kinda new
What is the name of your latest book and what inspired it?
THE FOUR REASONS TO DIE and I was inspired by my solitude.
Do you have any unusual writing habits?
Yeah. I kinda love to write in ciphers of jumbled words
What authors, or books have influenced you?
Dan Brown, Stephen King
What are you working on now?
Kibroth Hattaavah; the cravings of the grave
What is your best method or website when it comes to promoting your books?
I don't really know
Do you have any advice for new authors?
Just keep writing like I do
What is the best advice you have ever heard?
Don't leave your stories as manuscripts, but get it to the world
What are you reading now?
Am kinda not reading but just juggling with work and writing
What's next for you as a writer?
Really don't know but I think I want to write three more books this year if possible
If you were going to be stranded on a desert island and allowed to take 3 or 4 books with you what books would you bring?
Frank E Perretti books