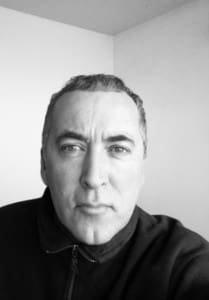 Tell us about yourself and how many books you have written.
I studied law at university and completed my postgraduate training at the College of Law. As a lawyer, I specialize in commercial dispute resolution, which is basically helping businesses to solve disputes between one another. I've cut my hours recently to concentrate on writing. I enjoyed my time in the law but it isn't what I want to do in the next twenty years or so.
Outside of work, I blog about Middle East politics and keep up-to-date with new technology and foreign policy. I'm interested in all aspects of politics but my passion is international relations. I have three children and when I'm not spending time with my family I like to explore the great outdoors, especially by the coast and mountains. I did a lot of mountaineering in the past, but you have to be super fit and although I like to work out, I simply don't have the time to get to that level of fitness anymore.
I like to read, of course, mostly thrillers, crime and military history. My musical taste is eclectic, everything from Eminem to operas by Richard Wagner. I'm a big movie buff, again mostly thrillers and military, although I'll watch any genre as long as the quality is good, and I enjoy South American and European cinema too. I know I spend too much time on social media, especially Twitter, which can be flippant as well as informative. I have over 15,000 followers and love the interaction. I believe the capacity to reach the world in almost real time with content that matters is a force for good in the world and would it hate to see it hijacked by advertisers.
I have written two novels and one novella. My two new books, a sequel to State of Honour, Tom Dupree #2, and my WW2 novella about the last days of the fall of Berlin are due out this year.
What is the name of your latest book and what inspired it?
My novel, State of Honour, is published worldwide by Harlequin, now part of the HarperCollins group. It's a cinematic-style, fast-paced, action-packed political/military/spy thriller. It recently became a bestseller in the US, reaching #98 in the overall Amazon Kindle chart and #1, #2 and #2 in sub charts, as well as #14 in the overall Barnes & Noble chart. It was also a bestseller in India, where I have a lot of Twitter and Facebook fans, and sold well in the UK, Canada, Germany and Australia.
The book was inspired by my interest in Middle East politics, especially the schism in the Muslim faith between Sunnis and Shias, and the desire to write a real adventure story that readers couldn't put down. I've had two female readers contact me and say that they read it in one sitting, which is quite an achievement, given it is over 100,000 words.
I also wanted two write what is known as an international thriller, one with big themes like redemption and the complexity of geopolitics, while at the same time keeping it face-paced. I also wanted to write cinema-style action scenes where the reader feels right in the thick of it. I want the reader to have as much fun reading it as I do writing it. I even enjoy the countless hours of research, as I'm a stickler for detail, right down to the type of sniper scope a foreign soldier would use.
Do you have any unusual writing habits?
As I still work in the law, albeit not with the heavy responsibilities of running a large business as I once did, I write mostly in the evenings and at weekends. Sometimes I write to the early hours of the morning, which gets me into trouble with the long-suffering but very supportive love of my life, Catherine.
I also like to go for long walks and play out scenes in my head like a video. They can be both action scenes and dialogue. I always carry a notepad to write them down. I plan every chapter of the book before I start writing, although I don't adhere to it slavishly. My readers particularly like the twists in State of Honour and nobody has seen the main ones coming as yet. They would tell me if they did!
What authors, or books have influenced you?
They are a mixture of the masters of thrillers like Frederick Forsyth and Tom Clancy, and more literary thriller writers, such as John Connelly and James Lee Burke. I'm also a big fan of Cormac McCarthy, Joseph Conrad and Ernest Hemingway. The Day of the Jackal and all of Mr Forsyth's books have influenced me in terms of getting the detail right, and modern authors such as Brad Thor and Vince Flynn in terms of plot. I'm an avid reader and believe that a writer needs to read outside of their own genre too.
What are you working on now?
I'm currently working on Tom Dupree #3. He's a Special Agent in the US Bureau of Diplomatic Security, who specializes in close protection work and counterterrorism. He gets to go all over the world, and as I like to keep up-to-date with international affairs, I do my best to make his adventures topical.
I'm also working on a YA/adult thriller about a teenage girl who's brothers go missing. It's in the planning stage at the moment, but a great character is immerging, a modern-day knight, and I'm excited.
What is your best method or website when it comes to promoting your books?
The choices are endless, of course. As I said, I'm a social media nut and certainly Twitter has been great for me. I've not only sold books there, but also made some good connections for interviews and blog posts etc. I've even had two film directors contact me as a result, but I'm not holding my breath.
Apart from the obvious social media sites, which should ideally be connected to one another and lead back to the hub, namely your website, Awesomegang and other writing websites help enormously. It's all about something called metadata, which is even more important than reviews. Basically, metadata, for those of you who are unfamiliar with the term, is data about data, such as this interview on Awesomegang.
But nothing beats word of mouth, of course, and Iike it or not, a writer has to be a little shameless when it comes to self promotion, otherwise you will fail to get noticed.
Do you have any advice for new authors?
My advice to new writers is: write something every day, read often, find your own voice, and keep plugging away.
Also develop a disciplined writing process and keep it simple. I have tried to write from scratch, with just a basic idea, but that doesn't work for me. It's like going hiking without a map, so I now plan my novels with a roughly fifty-page chapters' synopsis. I start by setting out who my hero is, the villain, the other major characters, the settings, and the overall theme. For a thriller, it's important to work out what the high-stakes issue is too. This isn't written in stone, so the process is essentially fluid and capable of change.
The more you do at this stage the less you have to do when you write the book. You can concentrate on getting a scene right rather than trying to figure out how it will fit into the plot. This doesn't mean that you have to continue on the planned route as you are in the writing process, but it does mean that you only take little detours rather than full 180 degree turns. And when you do decide to go off-road, you'll find that you will do so with confidence, because you are still within sight of the main highway.
So my advice is to plan your novel before you begin to write it. It will improve your plot simply by keeping each chapter cohesive and relevant.
What is the best advice you have ever heard?
You miss one hundred percent of the shots you don't take.
I like the cleanness and simplicity of this quote, and yet it's so profound. Life is all about taking risks and, metaphorically speaking, going down dark alleys. I don't want to be an old man sitting in a chair in a nursing home with nothing but regrets for the things I didn't do. Life is all about doing as far as I'm concerned
What are you reading now?
I'm rereading Berlin: The Fall, 1945, a nonfiction book by Antony Beevor. It's a seminal treatise on the end of Nazi tyranny, coupled with a scathing commentary on Stalinist cruelty. What comes across in this wonderful book, which reads like a thriller novel, is Beevor's extraordinary grasp of his subject matter, his meticulous research, and refusal to stoop to generalities. The population of Berlin suffered for their sins, especially the woman, and Beevor does not pull any punches. This is a testament to the fact that we are one step away from brutality – one step away from being everything we judge to be abhorrent. A modern masterpiece, for sure.
What's next for you as a writer?
Apart from getting out my two new novels I've been approached by a couple of literary agents with a view to a print book. I'm not hung up on getting into print but if I can reach a wider audience I'll go for it. I have a ten-year plan, which is basically to get a bunch of books out there, both eBooks and print, with different publishers and in different countries and then sit back and think, okay, now I can take a break.
Perceived wisdom says that publishing will change dramatically in the next ten years but different pundits have different views. I think writers will have an even bigger potential readership via as yet unknown platforms, which will be increasingly crafted for transmedia. It's exciting.
If you were going to be stranded on a desert island and allowed to take 3 or 4 books with you what books would you bring?
1. For Whom the Bell Tolls – Ernest Hemingway
To remind me that less is more in writing and what's important is the uniqueness of the human spirit.
2. War and Peace – Leo Tolstoy
To get lost in an epic masterpiece and forget about my predicament.
3. Catch 22 – Joseph Heller
To remind me to laugh in the face of hardship.
Author Websites and Profiles
Gary Haynes Website
Gary Haynes Amazon Profile
Gary Haynes's Social Media Links
Goodreads Profile
Facebook Profile
Twitter Account