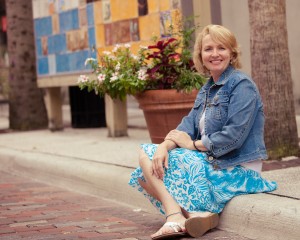 Tell us about yourself and how many books you have written.
Heather Hamel is an author, horse trainer, and teacher. While working her way through college to be a teacher, she discovered a passion for storytelling, and became a ghost tour guide in the historic and haunted town of St. Augustine, Florida.
After teaching for a few years, she felt something was missing from her life. That something was a horse. Growing up with horses made Heather feel confident she was up for the challenge that a wild mustang named Kobi would bring. She learned quickly that when you own horses you become a part-time vet, part-time nutritionist, and full-time equestrian.
As Heather continued to teach people and horses, she could not shake her love of storytelling. Today, she herds words, horses, students, and still finds time to tutor students with dyslexia.
Heather has written numerous on-line horse articles, and two middle grade novels. Murder of Crows focuses on her love of history, ghosts, and storytelling, while Kobi: Memoirs of a Mustang is all about her beloved horse, and his trials with trying to understand humans.
Her latest project is a four book cryptozoology series: Within Emerald Forests (3/10/15), Under Sapphire Skies (6/11/15), Beneath Diamond Waters (11/15), and Across Ruby Fields (1/16) which chronicle four children as they are trapped in their aunt and uncle's cryptozoological vortex.
What is the name of your latest book and what inspired it?
The last published book, Within Emerald Forests, is the first book of a four book cryptozoological series. It was inspired by my nieces and nephew when they come to visit for the summer. They live in Asheville, NC and coming to the swamps of Florida is typically an eye-opening experience for them.
Do you have any unusual writing habits?
I wake up at 5:00 AM and write until 6:30 every morning before I go to work teaching at an elementary school. It's not that unusual, but it sure is early!
What authors, or books have influenced you?
I have been inspired by the book series Sisters Grimm as well as author, Ransom Riggs, for my middle grade stories. Other great books are Eat, Pray, Love; Water for Elephants, and The Thirteenth Tale for adult books.
What are you working on now?
What am I not working on? I'm currently editing a novella: Sugar – to follow up with Kobi's novel, as well as revising the sequel to Murder of Crows and my first adult novel – a historical romance.
What is your best method or website when it comes to promoting your books?
e-mail and facebook Call to Actions
Do you have any advice for new authors?
Don't give up!
What is the best advice you have ever heard?
Keep your butt in the chair & no one can ever tell your story – you have to do it!
What are you reading now?
Writers Journey by Christopher Vogler
What's next for you as a writer?
My two year plan involves finishing the current projects of sequels, writing another one in the Murder of Crows series, two more adult novels (all tying together with the characters), as well as several shorts about therapy horses.
If you were going to be stranded on a desert island and allowed to take 3 or 4 books with you what books would you bring?
Outlander by Diana Gabaldon
Water for Elephants by Sara Gruen
Kobi by Heather Hamel
Author Websites and Profiles
Heather Hamel Website
Heather Hamel Amazon Profile
Heather Hamel's Social Media Links
Goodreads Profile
Facebook Profile