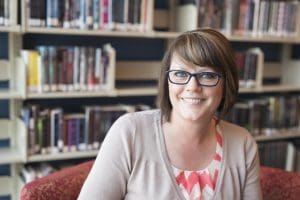 Tell us about yourself and how many books you have written.
I'm a Registered Nurse by day and a writer by… whenever I can fit it in. I have written 7 books, 4 of which are published at this time. Although I started out writing in the YA Urban Fantasy genre, I've figured out that I like to write in many different genres.
My published works are: a YA Urban Fantasy trilogy — Five Out of the Dark, Five Out of the Pit, and Five Out of the Ashes; and SAVED, an adult Romantic Thriller/Suspense.
What is the name of your latest book and what inspired it?
SAVED is my latest book. It's a Romantic Thriller/Suspense novel that I wrote for my mom and sisters because they are all huge romance fans and not-so-much fans of fantasy.
Do you have any unusual writing habits?
I have been known to write in some odd places, like wrestling tournaments while waiting for one of my sons' turn to wrestle.
Also, I don't do much plotting, I prefer to let the characters tell the story. I always carry a notebook with me and use it to write down ideas and future plot points that pop up in my head at random times.
What authors, or books have influenced you?
I love reading fantasy, even as an elementary school child I gravitated toward it. I read and loved books like A Wrinkle in Time, The Phantom Tollbooth, and Alfred Hitchcock short stories at a young age alongside all of Beverly Cleary's fun books. Really, I read anything I could get my hands on back then, including my dad's collection of Louis L'Amour books.
Here's a small list of authors that have influenced me: Brandon Sanderson, J.K. Rowling, Nicholas Sparks, Jim Butcher, and J.R.R. Tolkien.
What are you working on now?
I'm working on revisions to a YA superhero/dystopian novel titled Myrikal that will be out in February. And, I just started writing on a new Romantic Thriller.
What is your best method or website when it comes to promoting your books?
BookBub and FaceBook ads have been good promotion sites for me.
Do you have any advice for new authors?
Just keep writing. And, embrace the editing and revising parts of writing because that's where you really make your story shine.
What is the best advice you have ever heard?
"I am asking that we stop seeking out the storms and enjoy more fully the sunlight. I am suggesting that as we go through life we 'accentuate the positive.' I am asking that we look a little deeper for the good, that we still voices of insult and sarcasm, that we more generously compliment virtue and effort. I am not asking that all criticism be silenced. Growth comes of correction. Strength comes of repentance. Wise is the man who can acknowledge mistakes pointed out by others and change his course. What I am suggesting is that each of us turn from the negativism that so permeates our society and look for the remarkable good among those with whom we associate, that we speak of one another's virtues more than we speak of one another's faults, that optimism replace pessimism, that our faith exceed our fears. When I was a young man and was prone to speak critically, my father would say: 'Cynics do not contribute, skeptics do not create, doubters do not achieve.'" ~Gordon B. Hinckley
What are you reading now?
Witchy Winter by D.J. Butler
What's next for you as a writer?
I have so many new ideas for books, I'm just going to keep plugging along so I can get as many of them written as possible — and enjoy the ride the characters take me on along the way.
If you were going to be stranded on a desert island and allowed to take 3 or 4 books with you what books would you bring?
Harry Potter (probably The Goblet of Fire if I could only choose one), The Way of Kings by Brandon Sanderson, one of the Harry Dresden books by Jim Butcher, and the Book of Mormon.
Author Websites and Profiles
Holli Anderson Website
Holli Anderson Amazon Profile
Holli Anderson's Social Media Links
Goodreads Profile
Facebook Profile
Twitter Account