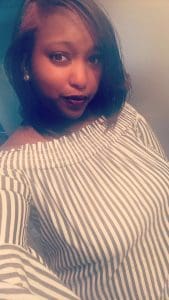 Tell us about yourself and how many books you have written.
I'm 22 years out, I started Writing in June of 2017 so far I have published two books which are apart of a series with the third books making its debut before the end of this year!
What is the name of your latest book and what inspired it?
My latest book which will be coming out within the next couple of weeks is called Hope it's the final book In a three book series called the Mae Sisters, I was inspired to write this book because of the relationship I have with my sisters and I wanted to display that dynamic of how family can love each other through anything.
Do you have any unusual writing habits?
I only like to write at night I would definitely call that unusal Lol but I hear many people do it so I can't be that weird right?!
What authors, or books have influenced you?
One of my biggest influences would be Brenda Jackson! I also love Desiree, Shvonne Latrice, B love, and BriAnn Danae.
What are you working on now?
I am writing a book by the name of I won't lose to love again which is one of the closet to my heart than any book I've written.
What is your best method or website when it comes to promoting your books?
I use Facebook but I have been trying to find different ways to meet and introduce myself to new readers.
Do you have any advice for new authors?
I would say don't give up if you love it do it!
What is the best advice you have ever heard?
Take your time, anything worth having takes time.
What are you reading now?
Nothing, I love reading so much I won't be able to finish the book I'm writing.
What's next for you as a writer?
I want to be able to become a bestseller
If you were going to be stranded on a desert island and allowed to take 3 or 4 books with you what books would you bring?
Chaos, a wife for a westmorlamd, and Dark Desire
Author Websites and Profiles
Iesha Bree Website