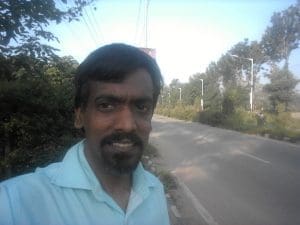 Tell us about yourself and how many books you have written.
I write in English and Malayalam. As on now, I wrote 5 books― "April showers bring may flowers", "On an exciting Cocktail Night", "The Lady in the Moonlight", "Tiptoe to Silence", and, "A Nebula in the Milky Way".
"April showers" is about a diary entry of a ten-year-old girl, written in Indian slang. The malayalam version of this story is, "Lion's Park".
"Cocktail Night" is in the genre horror. The malayalam version of this story is, "Praise the Lord".
"The Lady in the Moonlight" is a story of mystery. The malayalam version of this story is, "Orchid Pookkalude Pranayam".Recently, this book has been translated and published in Spanish as well. The Spanish title is, "La Senora A La Luz De La Luna".
Tiptoe to Silence is a Fantasy and Romantic tale. The malayalam version is, "Chandragiriyil Oru Sayahnam".
The last one, "Nebula in the Milky Way" is a Science Fiction story based on Time Travel.
I am a native of India. I live in Gonikoppal, Coorg district, Karnataka. My parents are from Kerala, but we've settled in Coorg, years ago. My father is a photographer, and my mother is a housewife. I live with my parents, along with my wife and a one-year-old daughter.
I did my graduation in Computer Science, from Mangalore University. Before completion of my Post Graduation in Mathematics, I started working as a Computer Networking Administrator, thereby as a Computer Faculty, and also as a teacher for Physics, Maths, and English, for a period of 20 years. I hold an international certificate from Cambridge University, in teaching English for speakers of other languages, I also worked in the relevant field as the coordinator of Communicative English Faculties.
Apart from all these, I worked in the BPO section (Business Outsourcing) as agents in UK and US processes.
Currently, I am working as a Principal in a school, at Madikeri, near my hometown.
In my free time, I write, read, play chess, and listen to some good music. I'm a Musician, and a Chess player too. I play violin, harmonium, and mandolin. I am a professional in these musical instruments. Chess is my favorite pass time.
What is the name of your latest book and what inspired it?
My latest book is a Science Fiction story. "A Nebula in the Milky Way". It is based on Time Travel, published on 19th November 2017. It's going well so far, with good reviews.
I'd some long lasting fantasy thoughts when sometimes I just think about the past, it would have been better if… Yes, it is such types of thoughts that led me to write this concept of Time Travel. Like… if you ever got a chance to change something in your past, then what would that be!
The concept of the movie 'Timecop' also inspired me in writing this book.
Do you have any unusual writing habits?
I don't know! I write whenever I want. My busy schedule doesn't at all hinder my writing task.
What authors, or books have influenced you?
Bram Stoker's 'Dracula'; 'Things fall apart' by Chinua Achebe, Henric Ibsen's "A Doll's House", "La Belle Dame Sans Mercy" by John Keats.
What are you working on now?
I am promoting my books. I am working on a love story. I haven't named it yet! I just outlined, and preparing the first draft.
What is your best method or website when it comes to promoting your books?
Social media, obviously! Mainly Facebook, goodreads, Google plus, and twitter. I am active in all of these. And, your website 'awesomegang' also helped me a lot in exposure as an author.
Do you have any advice for new authors?
Enjoy! A good writer should be a good reader as well! Read and review other writer's work whenever you have time. This not only helps in improving oneself, but also helps many upcoming authors boosting their potential.
What is the best advice you have ever heard?
Be on to yourselves! 😊 I always follow that! 😊
What are you reading now?
I am helping out some authors by beta reading their work. Also, I am reading some of the old classical literatures.
What's next for you as a writer?
To be honest, I really don't know! I write for the sake of pleasure. I am trying to promote my books, getting them translated to any other languages.
If you were going to be stranded on a desert island and allowed to take 3 or 4 books with you what books would you bring?
Honesty, I cannot read anything when I am in a place like a desert island. Though I may carry some books along with me, I think I will spend most of my time doing nothing rather than admiring the beauty of nature, reading my own books, or writing something.
Author Websites and Profiles
Lathish Shankar Amazon Profile
Lathish Shankar's Social Media Links
Goodreads Profile
Facebook Profile
Twitter Account