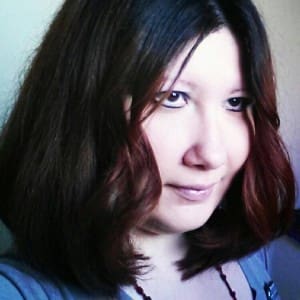 Tell us about yourself and how many books you have written.
I'm a new author who writes primarily paranormal/horror stories and poetry. I have planned on being an author since I was eight years old and recently have had my first novel, Stake-Out (Paranormal Detectives Book One) published by Vamptasy Publishing.
Previously, I have had a poem published in the anthology "The Struggle" and a short story in the anthology "Wishful Thinking", both published by Fireside Press.
On June 13th, I will also have a short story published in the anthology "Love Sucks", published by Crushing Hearts And Black Butterfly Publishing (parent company of Vamptasy).
What is the name of your latest book and what inspired it?
My latest book is called "Stake-Out" and is the first book in the "Paranormal Detectives Series". Below I'll paste the official synopsis, but I decided to write it almost on a whim. I was watching a crime show on TV and wondered, what would happen if a cop found out his perp was actually a vampire? I am a vampire lover and always have been, so the thought really isn't as unusual as it sounds!
I wrote the first draft in less than three months, and recently have seen some wonderful feedback.
In a city overrun with the undead, an ex-cop is given a chance to get revenge…
Danny Mancini is on a case, following a murder suspect. When he catches him, he finds out that the perp isn't even human: he's a 200 year old rogue vampire!
The department doesn't believe him, and puts him on early retirement, despite his many years of service to the Chicago Police Department, which sends him into a downward spiral.
Two years later, Danny gets an invitation from the beautiful, young and very attractive Detective Angelica Cross to join a secret branch of the FBI to help her track down Vincent, the wayward vamp.
But renegade werewolves, meddling immortal witches and Danny's strange visions of a life lived a century ago with Angelica make things more difficult than it should be.
Do you have any unusual writing habits?
I don't outline my stories. I never write anything down so I can remember it later. If it wasn't good enough to be remembered, it wasn't good enough to go into the story. I also only write late at night; I don't feel very creative in the daytime.
What authors, or books have influenced you?
I've been an avid reader all my life. My biggest influences are Charlotte Bronte, Edgar Allan Poe, J.R.R. Tolkien and, my absolute favorite, Stephen King.
Each author has taught me something different and I would not be the writer I am today without their influence in my life.
What are you working on now?
Right now I have a few short horror stories in the works, as well as the sequel to "Stake-Out". I can't say much about it right now, but know that it features (aside from vampires) immortal witches, cursed werewolves and possibly demons…
What is your best method or website when it comes to promoting your books?
I have a wonderful team behind me at CHBB/Vamptasy. Not only do they regularly promote me on Facebook and Twitter, I also have friends and family who pass my books along by word of mouth online.
I've experienced good things with Facebook groups, Twitter and contacting bloggers to feature "Stake-Out". But consistency is key. It takes a lot of time to hit the 100+ groups on Facebook, Goodreads and keep tweeting, but the results are worth it.
Do you have any advice for new authors?
Never. Give. Up. No matter how many rejection letters you get, or how hopeless you feel, or who says writing isn't a real job. Keep going. Make your dreams come true.
Also, never, EVER write a book for someone else. First, write a story YOU want to read, and then market it to publishers who will accept your ideas as they are without major changes.
What is the best advice you have ever heard?
Well, it wasn't said to me personally, but it was "the road to Hell is paved with adverbs", said by Stephen King.
What are you reading now?
I read a lot at once! "Sunburn", by Darren Dash. "Dead And Disorderly" by Alexis D. Craig. "Descendant" by LJ Amodeo. "Starblood" by Carmilla Voiez. By the time this goes live, I'll also be reading "Finders Keepers" by Stephen King.
What's next for you as a writer?
Well, I can't predict what will happen with my career. All I can hope is that I keep releasing books that people enjoy reading. I'd like to increase my fanbase, not for the money or fame, but to know that there are people out there enjoying my work like I enjoy the aforementioned authors' work.
If you were going to be stranded on a desert island and allowed to take 3 or 4 books with you what books would you bring?
"Jane Eyre" by Charlotte Bronte. "The Hobbit" by J.R.R. Tolkien. "Complete Tales And Poems" of Edgar Allan Poe. "The Stand Uncut Edition" by Stephen King.
Author Websites and Profiles
Lily Luchesi Website
Lily Luchesi Amazon Profile
Lily Luchesi's Social Media Links
Goodreads Profile
Facebook Profile
Twitter Account