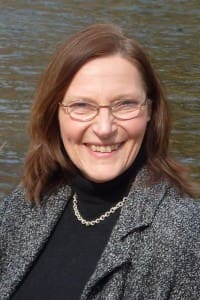 Tell us about yourself and how many books you have written.
Love of the sea and fascination with the human condition led me to write three Liz Adams Mysteries about a cruising couple aboard their sailboat, Sloopy. Dance Instructor for 5 years and professional photographer for 30, I began to write when my two sons left the nest. Northwest Connecticut is home, where I live with my husband, Roger and a rambunctious Sheltie, Randy. Together we play ball, take long walks and frequent the Mystic area.
What is the name of your latest book and what inspired it?
Two Headed Snake of Key West is my third Liz Adams Mystery. For several consecutive years, my husband and I vacationed in Key West. My spirit feels connected to that spot where entrepreneurs have historically flocked.
Do you have any unusual writing habits?
To me they are not unusual. I have two places in my home where I can productively write. One is sitting in front of our wood stove on cold winter nights and in bed. For some reason, writing at a desk with my feet on the floor causes brain freeze. Two other locations that I favor are on my boat or in traveling long distances in a car.
What authors, or books have influenced you?
Sherlock Holmes, Agatha Christie, Sue Grafton, Clive Cussler
What are you working on now?
A fourth Liz Adams Mystery.
What is your best method or website when it comes to promoting your books?
I do not have a favorite. Marketing is a compilation of reaching out in many ways.
Do you have any advice for new authors?
Write if you have the passion and a story to tell.
What is the best advice you have ever heard?
Life is like a wheel. Each spoke is a piece of your life, i.e. family, work, recreation, etc. When one spoke gets too large, the wheel cannot turn.
What are you reading now?
Sue Grafton's W is for Wasted
What's next for you as a writer?
While I work on my fourth book, I will continue to write blogs, flash fiction and poetry to improve my craft. I enjoy participating in writer's groups to learn from others.
If you were going to be stranded on a desert island and allowed to take 3 or 4 books with you what books would you bring?
Bible, Sonia Choquette's The Psychic Pathway, Julie Cameron's The Artist's Way, Soul Lessons and Soul Purpose: A Channeled Guide to Why You Are Here
Author Websites and Profiles
Marilyn Dalla Valle Website
Marilyn Dalla Valle Amazon Profile
Marilyn Dalla Valle's Social Media Links
Goodreads Profile
Facebook Profile
Twitter Account