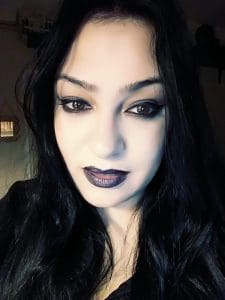 Tell us about yourself and how many books you have written.
I am a veteran copywriter and a lifelong goth. I was a ghostwriter for many years.I love art but cannot draw a straight line with a ruler to save my life. Twice The Demise is my first and only book.
What is the name of your latest book and what inspired it?
Twice The Demise was published March the second of this year. There was a time in my life where so many bad things had happened. Thankfully, I had a mentor who knew my strengths as a writer. She was my college professor as well. She would always tell me how much she enjoyed reading my essays. Years later, as I was staring at a picture of my favorite graveyard, whilst doing a ghostwriting assignment, I opened another Word page and started writing the first two chapters of my book. I showed it to her and after editing it, she gave me the green light.
Do you have any unusual writing habits?
I do not know what counts as unusual but here we go. I still use a typewriter for some of my writing. It helps me think better. I also need to have a notebook and a pen. I cannot rely completely on a computer. If I get stuck on an idea, I will whip out my guitar and start playing. If it is too late, I will howl at my neighbor's noisy dog. We have an understanding.
What authors, or books have influenced you?
Dean Koontz , Philip Zimbardo, Edgar Allen Poe, Daphne Du Maurier Alphonse Daudet and newly- Sylvain Reynard.
What are you working on now?
I am working on Twice The Demise's second installment. I have other projects but have yet to finalize some details.
What is your best method or website when it comes to promoting your books?
Social media, whether I like it or not, is one of the best methods to promote almost anything. It is my primary method right now.
Do you have any advice for new authors?
I am a pretty new author myself and I do not think I am qualified enough to give advice. But I will say this: Do not be afraid to market your book to people who do not read your genre. You will be surprised. Also, do not be afraid of bad reviews. Bad reviews are better than no reviews. Not everyone is going to like your work. Writing is an art and as they say- 'Art is subjective'.
What is the best advice you have ever heard?
A famous painter told me that if you write for the sole purpose of money then you will be let down. Write just to put your story and soul out there. People are going to critique and criticize you. People are going to make fun of you. But you know what's important? You did something that people are afraid of doing.
What are you reading now?
The Book of Job
What's next for you as a writer?
Drafting TTD's second installment. It is my baby and it is my main focus for now.
If you were going to be stranded on a desert island and allowed to take 3 or 4 books with you what books would you bring?
The Lucifer Effect
The Eyes of Darkness
Twilight of The Idols
Author Websites and Profiles
Maureen Joseph Website
Maureen Joseph Amazon Profile
Maureen Joseph's Social Media Links
Goodreads Profile
Facebook Profile
Twitter Account