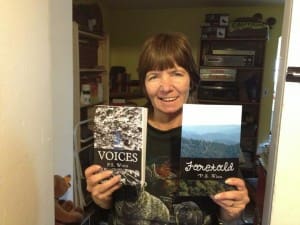 Tell us about yourself and how many books you have written.
Just finished with Book #27 in 31 months! I am slowing down though, too many too fast. My head is spinning. LOL!
What is the name of your latest book and what inspired it?
Parallel Adventures – Secrets Revealed is an adventure of twins traveling to Parallel worlds and is part two of a series.
Do you have any unusual writing habits?
I write everything longhand and write all the time.
What authors, or books have influenced you?
anything and everything, as a reviewer, I have read over 1000 books in 2 years. A good story is what matters and I have read so many.
What are you working on now?
I am working on taking a break! I have been editing the 27 already written, trying to decide if I want to write more.
What is your best method or website when it comes to promoting your books?
I use twitter and Facebook along with good reads for promotion, which I should add is the worst part of being an author.
Do you have any advice for new authors?
Write what you love and how you want to, You will get a lot of input, but when it comes down to it, you are the one writing and if you are loving that, then keep it up.
What is the best advice you have ever heard?
Don't give up! Also have a great support team behind you.
What are you reading now?
Anything I can find, sometimes I read 4 books a day and by the time I say what I am reading, I am done and reading something else.
What's next for you as a writer?
I just want to write, but take it slower, maybe only 2 or 3 books a year for awhile.
If you were going to be stranded on a desert island and allowed to take 3 or 4 books with you what books would you bring?
Something long, but mostly a blank notebook. That way I can write my own and keep myself busy. I think a Stephen King Novel, a dictionary and of course, that blank notebook.
Author Websites and Profiles
P.S. Winn Amazon Profile
P.S. Winn's Social Media Links
Goodreads Profile
Facebook Profile
Twitter Account
Pinterest Account