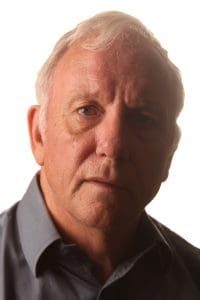 Tell us about yourself and how many books you have written.
I was born in England, although I've lived in Australia for over forty years. Until the last couple of years, I travelled extensively building the infrastructure for Cell phone networks.
I've written 12 books, the last 9 have been British Detective Thrillers. The reviews have generally been good, improving with each subsequent book.
What is the name of your latest book and what inspired it?
Death and the Lucky Man. A man who wins a great deal of money but ends up dead.
Do you have any unusual writing habits?
Only hard work. I start at 4 a.m. each morning. Hopefully, I'll write till about 9 or 10 a.m. largely avoiding the noise of the city. I need total peace to write. I'll aim for 5K words and most days I'll make it. After about ten or twelve days, I'll take a break for a couple of days to recharge the batteries. I'll also not write when I'm in the final edit of a book.
What authors, or books have influenced you?
When I was younger, science fiction from the masters of the genre. Nowadays, I'll focus on books in my genre. I've read most of them at some stage, although writing takes predominance over reading until I reach the breakthrough on books sales.
What are you working on now?
Another book in the DCI Cook Series. Two women, socially and economically different die within the same hour, although separated by several miles. Why is the unknown factor. There'll be a few twists and turns on the way, a red herring here and there before it is all revealed. I know the general direction, not sure where it will end.
What is your best method or website when it comes to promoting your books?
An email mailing list is critical. It sells more than any paid advertising. I run daily ads on FB, some success, but unable to get the scaling that I would like. Amazon AMS ads, disappointing. They're very slow, difficult to analyse and whereas they've made me money, I've just become tired of them. I'll continue with FB ads. I believe they can work, but they're difficult.
Do you have any advice for new authors?
Write and often. Don't wait for the right moment or the right day. Sit down each day regular as clockwork and put down some words. If you don't have time due to other commitments, cut back on your sleeping time. If you can, read as well, but writing a book that can sell is a marathon. Unless you're lucky, it's more than one book, series are best, and keep chipping away until you get there. Also, find a decent editor. Try a few with samples. Some are great, some are not.
What is the best advice you have ever heard?
Write every day.
What are you reading now?
Currently my work load prohibits extensive reading. I'll listen to audiobooks on an iPad, focussing on the best books in my genre.
What's next for you as a writer?
To continue with what I'm doing now. Unless there's a pressing reason not to, I'll continue to apply maximum effort. Although, I find the writing, editing, publishing process enjoyable and satisfying. Hence, the hours exhausted do not concern me.
If you were going to be stranded on a desert island and allowed to take 3 or 4 books with you what books would you bring?
Not so easy to answer. I'd certainly take some of the Ancient Greek classics: Sophocles, Aristophanes, Plato. Literature that's never been better. Also, Shakespeare.
Author Websites and Profiles
Phillip Strang Website
Phillip Strang Amazon Profile
Phillip Strang's Social Media Links
Goodreads Profile
Facebook Profile
Twitter Account