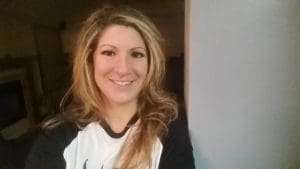 Tell us about yourself and how many books you have written.
Telling about myself is difficult because there are many different directions I could go. I'm an author who takes her own life experiences, dreams, and regrets and turns them into novels using the premise, "I wonder what would have happened if…".
It only takes one scene to make a story. Sometimes, the scene is sad or scary. Sometimes it's guilty of making your heart flutter and palms sweat.
So far, I've captured these moments in two novels. The first is due to launch on December 21, 2017 and the second will be out in 2018- hopefully in early Spring.
When I'm not writing, I'm teaching or painting or spending time with my family. Life is really busy, but that's what makes it fun.
What is the name of your latest book and what inspired it?
My latest book that's ready for publication is "All the Different Ways", and it's the first in it's series. It is inspired by life.
I woke up one night with a particular scene needling me; it just wouldn't let me go until I wrote it down. Once that chapter was on paper, the rest just came spilling out.
I'm working on the second book now.
Do you have any unusual writing habits?
My unusual writing habits are that I hand write my entire first draft in a series of spiral notebooks. I refuse to type it until it's on actual paper first. I use a calendar for organizing it, too.
My other habit is that I don't start at the beginning. I actually skip chapters and work around certain parts. I have moments that get written first, then I fill in the gaps. It sounds like there'd be no cohesiveness but my books actually flow really well.
What authors, or books have influenced you?
I love Cambria Hebert and her entire Hashtag Series. I also love the Pucked Series by Helena Hunting, the Assassins Series by Toni Aleo, and the Game On Series by Kristin Callihan. They all have a style I really appreciate and value. Out of all the ebooks I have stored, theirs are books that I keep going back to and rereading.
What are you working on now?
I'm currently working on book 2 in my series called "All the Other Reasons". It follows the sister of the main character from the first book.
What is your best method or website when it comes to promoting your books?
My best method is Facebook:
https://www.facebook.com/rjleeindieauthor
Do you have any advice for new authors?
My advice for new authors is to get involved with author groups on Facebook or other social media outlets for support, but ultimately, do what's right for you.
What is the best advice you have ever heard?
The best advice I've heard is to only participate in the book promotion and social media sites that I feel comfortable with. I don't have to be in everything.
What are you reading now?
I'm reading the first eleven chapters of my second book– because editing is never done!! And then, for fun, I'm reading "Forever Pucked" by Helena Hunting.
What's next for you as a writer?
The next thing for me as a writer in the short-term is to enjoy my book launch on December 21st! I'm so grateful for all of the support of my friends and family. It really blows my mind!
After that celebration, I'm going to continue writing, continue sharing my stories. I don't want to hold my chapters in anymore.
If you were going to be stranded on a desert island and allowed to take 3 or 4 books with you what books would you bring?
I can only take 3 or 4??? Wow, that's ruthless. Ok, I would take "Pucked Up" by Helena Hunting, "The Game Plan" by Kristin Callihan, and "#Nerd" by Cambria Hebert.
Author Websites and Profiles
R.J. Lee Website
R.J. Lee Amazon Profile
R.J. Lee's Social Media Links
Goodreads Profile
Facebook Profile