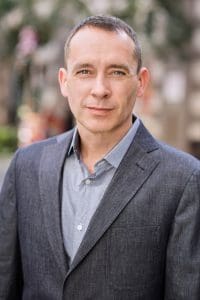 Tell us about yourself and how many books you have written.
I've lived many exciting chapters as a serial entrepreneur, a pop-culture podcaster in the top 2% on iTunes, a U.S. Vice Presidential advance person, and as an event planner to one of the richest men on the planet. I grew up in Williamsburg, Virginia, worked in Washington, DC for 25 years, then discovered that the desert southwest is where I am most at home. I live in Las Vegas, Nevada with my husband and two rescue dogs and I'm not happy unless I am creating something new every day.
What is the name of your latest book and what inspired it?
After taking a break from fiction writing for several years, I decided to start a new thriller series with a female hero, public relations hotshot Skyler Moore. "The Maine Nemesis" is her first book and it was officially released on January 25, 2019. The sequel, "The New Mexico Scoundrel," is coming in May 2019 and "The Nevada Saboteur" will drop in September 2019. I've always loved the small towns and big cities of America, so I'm excited to take Skyler and her friends (and enemies) all across this great nation.
Do you have any unusual writing habits?
I really only write for a few hours a day, but I'm pretty fast and I don't let social media or email disturb me. I need classical music or movie soundtracks as background noise; no lyrics. (I've actually been listening to a lot of bootlegged theme park background music lately; it's weird, but I love it.) Typically, I write from about 8 o'clock in the morning until about Noon. I spend the afternoon doing errands, book marketing (which is half of the job for us indie guys and gals!), and playing with the dogs. I don't touch my phone, tablet, or laptop come evening.
What authors, or books have influenced you?
There are so many who have inspired me, but some of my favorites are Carl Hiaasen, Sue Grafton, Stuart Woods, Tim Dorsey, Christopher Buckley, Christopher Moore, and Elmore Leonard. I'm also a sucker for Stephen King.
What are you working on now?
I just finished Book Two of the Skyler Moore Thriller series and I am passing it off to my editor in a week or so. I'm going to start right into "The Nevada Saboteur" very soon and I'm working on some ideas for a Y.A. witches thing and a television Christmas movie script, too. I like to multi-task.
What is your best method or website when it comes to promoting your books?
I'm exclusive to Amazon right now, so Amazon ads and Facebook ads are my mainstay. I also have an Advance Team that reads my books prior to publication to help me be better and to help promote the book when it launches.
Do you have any advice for new authors?
Don't be afraid of going indie! But I'm new, too, so I'm still learning.
What is the best advice you have ever heard?
Don't wait around for the New York agents and the Big Five publishers — do it yourself!
What are you reading now?
I'm reading "I Don't Like Where This is Going" by John Dufresne right now because it's funky and takes place here in Las Vegas.
What's next for you as a writer?
It's all about the Skyler Moore thriller series and marketing, marketing, marketing, marketing, marketing, marketing, and marketing. Mostly those two things.
If you were going to be stranded on a desert island and allowed to take 3 or 4 books with you what books would you bring?
Impossible and unfair! I recently had to pick ten for an article I was assigned and I thought THAT was hard. I'd say, "Tales of the City" by Armistead Maupin, Emma by Jane Austen, Interview with the Vampire by Anne Rice, and "The Great Gatsby" by F. Scott Fitzgerald. And I'd sneak my own, too, naturally.
Author Websites and Profiles
R. Scott Wallis Website
R. Scott Wallis Amazon Profile
R. Scott Wallis's Social Media Links
Facebook Profile
Pinterest Account