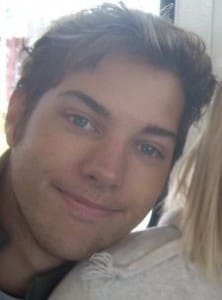 Tell us about yourself and how many books you have written.
Aloha! I'm Rob, 27, from Southampton (famous for being the place from which the Titanic sailed, hopefully my books won't suffer a similar fate). I had an unremarkable childhood really but then something clicked when I was 18 and I started to write my first story while I was bored at college. I studied Philosophy at uni which was ideally suited to my way of thinking and helped me expand my mind (some people use drugs for that, I use Sartre). Once I completed my degree I didn't really know what I wanted to do so a friend and I decided to apply for a program to move to Orlando and work at Disneyworld while studying at the University of Central Florida. That lasted for six months. It was a great time and an amazing opportunity. I consider it to be the best time of my life and it had a lasting impact. I was also lucky enough to be able to travel around the country on a 3-week road trip which was incredible.
It was hard to re-adjust after that and I drifted for a while but the past year or so I've really tried to focus on my writing and last year I released my novel, Angelic Hellfire, on Amazon which was a relief to finally get it out there!
I've written quite a lot, I have a lot of ideas so I tend to bounce around. I'm trying to concentrate to get everything completed though. At the moment I have a novel, a collection of poetry and a collection of short stories available.
Angelic Hellfire is a coming-of-age sci-fi story about a young woman, Aaliyah, who is unhappy with the direction her life has taken. Through the book she learns about the potential that resides within and the book is about believing in yourself, and that no matter how bleak or hopeless life seems there's always a way to make things better, and it may come from an unexpected source.
My poetry collection is called Step Into My Soul, and I've split it into two parts. The first half is for angst-filled raw, emotional poems while the second half focuses on romantic poems about the dizzying heights of love. I, Tomorrow? and Other Stories collects 12 stories and it's a bit of a mix, I'll go into detail about it for the next question.
What is the name of your latest book and what inspired it?
My latest released book is I, Tomorrow? and Other Stories. It collects 12 short stories I wrote throughout 2012 and it's a bit of an eclectic mix. There's some sci-fi, a couple of romantic tragedies, a Greek tragedy and a few other things. I'd never really written short stories before but I had a tremendous amount of ideas and I really wanted to explore a few different concepts and get them all out, and these stories were the result of that. This year I'm focusing more on getting a few novels done so it'll be a while before I release another collection of short stories. Here are the descriptions of the stories. The stories are accompanied by author's notes which delve into the background of the stories and some of my feelings towards them. It's hard to say what inspired them because there are such a disparate array of ideas I wouldn't want to go into them all here.
Looking Beyond the Universe – Jack Lee is a therapist called to diagnose a curious case – a man is claiming to be a superhero. Jack listens to his story and the patient is so vehement part of Jack wonders if he could be telling the truth…
The Hollow World – Sam is trapped in a simulated world but she fears it means more to her than the real one. She struggles with the conflict between her heart and her mind, rationally she knows that it's artificial yet she cares about characters around her.
A Threefold Love – A look at an unconventional relationship and how the judgments of outsiders can have a negative effect on the dynamics between three consenting adults.
The Disappearing Legend – Billy Kapse is a rockstar struggling with the price of fame. He poured his soul into his work yet he feels like he's a brand rather than a man. What is the price of immortality?
I, Tomorrow? – Alexander Roble is working on a method to transport people across vast distances, changing the world in the process when he notices a skin condition that only seems to get worse as he approaches the completion of his project.
The Saviours – A couple of decades ago the government set up a biosphere where the most gifted and creative people could live undisturbed, pouring all their energies into methods to improve the way Earth is run. Now, Adam Presly is one of the second generation and is expected to take his place on the High Council one day. However, he struggles with the fact that he has no emotional connection to Earth, and he wonders if his seniors have lost their way.
Flight – David feels trapped in life so he makes a wish and finds himself transformed, but it may not be as freeing as he suspects.
When the Walls Fell – One man holds the balance of two worlds in his mind.
Flowers of Despair – Shane is putting the past behind him while on a picnic with his beloved wife and daughter when tragedy strikes and he has to dredge up his brutal past in order to survive.
Eternal Tomorrow – If you had one day left would you be able to break the habits of a lifetime and life as if nothing mattered?
Four Years, No More – Four years after they broke up, Barry still has lingering feelings for Lauren. This is a story about how fears and insecurities can have devastating effects.
Incestua – Clyton rules the peaceful land of sandy Kylos but his soul is torn by a forbidden desire. His daughter, Chrysa, is the most beautiful girl and Clyton enters himself in a tournament of champions that will decide her husband.
Do you have any unusual writing habits?
Hmm, I'm not sure really, not without consulting other writers! Perhaps one thing which other writers may find strange is that I don't plan at all. I never plot out arcs or story points, whenever I have a story it flashes in my mind completely, so I have all the broad strokes. Then, as I write it, more ideas come to the fore and it takes on a life of its own. So it gets pretty busy in my head sometimes, because I not only have all the thoughts about my life, but all the thoughts about my characters' lives too. I've tried planning before but it just doesn't work for me, somehow I'm able to keep it all straight in my head, no idea how!
I'm not sure if this is unusual or not, but I spend a lot of time on my laptop so sometimes my eyes begin to hurt. If I'm writing I'll close my eyes and touch-type which sometimes helps me to get into a nice creative zone where I don't have to be distracted by my surroundings, and I've actually typed this paragraph out with my eyes closed.
What authors, or books have influenced you?
There are quite a few, and I don't limit my influences on just authors and books either (Hank Williams wrote some of the most tragic songs and he's been a great influence on my poetry).
Homer – The Odyssey is my favourite book of all time so there's definitely a place for him.
Tennessee Williams – I love the emotional vibrancy of his characters.
Philip K. Dick – Whenever you start a Philip K. Dick story you're never really sure where it's going to end up. I especially love his short stories where you get to better experience the breadth of his imagination.
W. Somerset Maughm – I only discovered him this year but I instantly fell in love with his writing. His prose is beautiful and the attitudes he expressed are ones that I identify with.
Jean-Paul Sartre – When I discovered Existentialism I was relieved that finally there was something I agreed with. Nausea in particular is a brilliant work.
Stan Lee – May seem a bit out of place on this list but I consider superheroes to be modern myths and even though Stan Lee's dialogue could be incredibly corny at times I love the characters he created (in particular Spider-Man) and the stories he wrote. I'm aware that a lot of other writers contributed so it may be a bit unfair that Stan Lee gets most of the credit, but he did usher in the the era.
Watchmen by Alan Moore deserves a mention too. The book is incredible, so rich with texture that I discover new things every time I read it and it set new limits to what comics could be.
What are you working on now?
I have a serial superhero story I'm writing on my blog. I update it weekly and chapter 14 will be posted tomorrow. The superhero is called Felicio and it's based on an idea, which was actually the first thing I ever wrote at college, although I've changed it a lot since then. But it's fun to write and I like having the deadline of knowing I have to post something by a certain time. I'm enjoying writing it and I'm going to take it into some surprising directions, so it'll be interesting to see how long I carry it on for.
I'm also about a third of the way into a novel called Hit Hard, which is about the woman's boxing world champion. She's been undefeated for many years and while she enjoys being at the pinnacle of her sport she also feels unfulfilled, and it's as if she hasn't really earned the belt because nobody can put up a decent challenge. So she searches for a way to find meaning in her life when there isn't a challenge, and how dangerous the need to push yourself to the limit can be.
I've also started formulating an idea for a pirate story. I've decided to call it The Wandering Treasure. I haven't started writing it yet, but I did write a bit of a prologue so here's a sneak peek. I haven't edited this or anything so I may change a few lines. Image an old drunk sailor saying this in a dreary, dark tavern.
Tis the jewel of the seas
The wandering treasure, shrouded in mystery
Everyone who hears of it eternally yearns
Those who seek it never return
The desire tears at men's souls
Leaves their hearts cold and hollow
It's said to rest under the farthest star
Where the mountains of glittering gold can be seen from afar
Protected by mermaids and spirits divine
Watched over by the gods and the sands of time
When lightning crashes and thunder rolls and the dreams meet the waking morning
Death will follow swiftly
But for one moment ye'll feel eternal
And then ye'll feel our pity
What is your best method or website when it comes to promoting your books?
I've found www.goodreads.com to be very helpful. There are a lot of authors and readers willing to help. It's a very friendly community and it's easy to find a lot of resources which would otherwise go unnoticed.
Do you have any advice for new authors?
I think the best advice is read a lot and write a lot. Also don't be afraid to bare your soul.
What is the best advice you have ever heard?
Probably the above, which is why I repeated it! Just write and read, write and read, write and read. In general life, one thing that has always stuck with me – "there are a million things in this world you can have and a million you can't."
What are you reading now?
Great Expectations, I'm got about 80 pages left. I'm really enjoying it so far. I'd heard a lot of people complain that it was a bit heavy-going, so I had intended to read it a chapter at a time in order to simulate the experience that the original readers had. However, I found it flows quite nicely so I'm reading it straight through.
I'm also reading Meditations by Marcus Aurelius, which is a collection of his maxims. I try to keep up and read philosophical works now and then. It's a good read so far although it's best to be read in little chunks I think. I also have Preacher and Locke & Key to read, both of which I'm going to start very soon.
What's next for you as a writer?
Well I have The Wandering Treasure to write after Hit Hard. I also have a few other things to get out. I have a couple of musicals that have been bursting to escape and a few more novels, including a sequel to Angelic Hellfire. My aim is to write at least one thing in every genre, so I've got plenty of ideas to work on. It's just a matter of organising them and getting them all completed.
What is your favorite book of all time?
The Odyssey. I studied it for a college course so I read it about 4 times in the course of an academic year but I never tired of it. It's one of the few books I make an effort to re-read regularly and it was actually responsible for me passing a module at university too. Sometimes studying a book can lead you to dislike it, but for me it allowed me to see the depth in the text and I completely fell in love with it. I make it a point to reference The Odyssey in most things I write.
Author Websites and Profiles
Robert D. Spake Website
Robert D. Spake Amazon Profile
Robert D. Spake's Social Media Links
Goodreads Profile