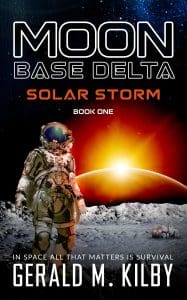 About SOLAR STORM : Moon Base Delta Book One
In space, all that matters is survival.
A high-energy solar storm creates a debris cloud that will soon make travel to and from the Moon impossible. Panic grips the lunar population as they scramble to evacuate. But for some, the situation is worse. For them, it's a matter of survival. This is their story.
Buy the book, and follow the author on social media:
Learn more about the writer. Visit the Author's Website.
Like the Authors Facebook Fan Page.

Author Bio:
Gerald M. Kilby grew up on a diet of Isaac Asimov, Arthur C. Clark, and Frank Herbert, which developed into a taste for Iain M. Banks and everything ever written by Neal Stephenson. Understandable then, that he should choose science fiction as his weapon of choice when entering the fray of storytelling.
REACTION is his first novel and is very much in the old-school techno-thriller style while his latest books, COLONY MARS and THE BELT, are both best sellers, topping Amazon charts for Hard Science Fiction and Space Exploration.
He lives in the city of Dublin, Ireland, in the same neighborhood as Bram Stoker and can be sometimes seen tapping away on a laptop in the local cafe with his dog Loki.