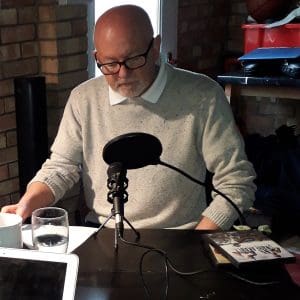 Tell us about yourself and how many books you have written.
I was born in London in 1953. Since I was an only child I spent a lot of time on my own. I used to write and draw a lot. I left school without too many formal qualifications, but my drawing obviously served me well because I became a graphic designer. I had my own design company but after some years, I decided to re-invent myself. I had always loved sport, so I became a sports coach. This led to a job as a sports development officer with a local authority where I began working with hard to reach groups such as people with disabilities and mental health conditions. After retiring in 2015, I set up my own consultancy called "Ifnotme" to support disadvantaged groups. I love what I do and it gives me plenty of time to write. Currently, I've published two books and am working on a third
I am married to Clyrene, have a daughter Emma, three lovely grandchildren and a cat called Sam.
What is the name of your latest book and what inspired it?
My latest book is called, "CARTHORSE to RACEHORSE – From Couch potato to a new thoroughbred you." I decided to write this book as the result of a bet I made with my good friend Mr Le. Now you will remember Mr Le if you have read my first book, Running with a wounded heart. Le is my best friend and running buddy. We have been running together for many years now and, I have to say, he is the perfect running companion. He seems to know instinctively when I'm tired and need to stop and when I'm just being lazy and need a kick up the backside. We do, however, have completely different philosophies when it comes to running. I envy Le because he runs for the sheer love of running. He needs no other reason to lace up his running shoes and head out the door. Me, on the other hand, I am goal driven. I need a reason to run. I love nothing better than to find a race and then make a plan. Ok, I confess that I'm a bit obsessive. I usually take the race date and then work backward to create a training schedule. The schedule is always elaborate, highly detailed and involves the use of many colored pencils. The plan always has a goal. When I tell Le, he listens patiently as I explain my plan and then invariably shoots it down in flames. Now I read loads of running books and articles and I watch running videos on YouTube avidly. So, I'm always well-armed with lots of hard evidence supporting my theory and inspiring stories of people who have accomplished fantastic feats whilst following similar training plans to mine. Le is very kind and always encouraging but ultimately he will slowly shake his head and utter the immortal words,
"You see the thing is Steve, those guys are like racehorses. It's in their genes. We, on the other hand, are more like carthorses".
The book sets out to disprove Mr. Le's theory and show that, anyone can become a thoroughbred.
Do you have any unusual writing habits?
I am inspired by the sound of rain falling. I have a desk by the window and love to sit and write whilst listening to the rain. I have a tape of the sound of thunderstorms and rain falling on a tin roof, which I play when it's not actually raining. Despite what you may have heard, it's not always raining in the UK.
What authors, or books have influenced you?
I am an avid reader with a wide range of interests. I like biographies and autobiographies. I enjoy science fiction. I enjoy reading books that inspire me. And, of course as a runner, I like all kinds of sports books.
Some great books that I've enjoyed recently are:
Stephen Guise's book, Mini Habits.
How to Build a Car: The Autobiography of the World's Greatest Formula 1 Designer by Adrian Newey and Run or Die: The Inspirational Memoir of the World's Greatest Ultra-Runner by one of my running heroes, Kilian Jornet.
What are you working on now?
A book under development is called, Mental Health and the long run. It explores the relationship between exercise, particularly running and positive mental health.
What is your best method or website when it comes to promoting your books?
Currently using, and trying to get to grips with, Amazon AMS Ads. Also using Digital Book Girls and Tweet your Books.
Do you have any advice for new authors?
As a new writer myself, I'm reluctant to offer too much in the way of advice. I try to be disciplined with my time and set aside particular blocks of my day to write. The mornings work best for me, even better if it's raining ha, ha. Write from the heart and don't over elaborate. I think that if you have a good story to tell than that will get you a long way.
What is the best advice you have ever heard?
Make sure that you have something to say first and learn your writing craft as you go along.
What are you reading now?
Lots of books promising to help me sell more books on Amazon, Facebook, Book Bub etc, etc. ha, ha.
Also, The Perfect Car: The Biography of John Barnard and North: Finding My Way While Running the Appalachian Trail by Scott Jurek
What's next for you as a writer?
To keep improving as a writer and hopefully continue to live a happy and balanced life well into my old (older!) age.
If you were going to be stranded on a desert island and allowed to take 3 or 4 books with you what books would you bring?
Run or Die: The Inspirational Memoir of the World's Greatest Ultra-Runner
Finding Ultra, Revised and Updated Edition: Rejecting Middle Age, Becoming One of the World's Fittest Men, and Discovering Myself and
The Rise of the Ultra Runners: A Journey to the Edge of Human Endurance
Obviously going to be spending a lot of time running around the desert island ha, ha.
Author Websites and Profiles
Steve Morley Morley Website
Steve Morley Morley's Social Media Links
Facebook Profile