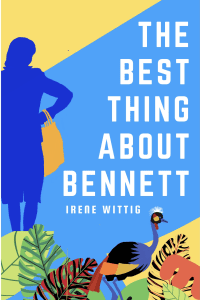 About The Best Thing About Bennett by Irene Wittig
Forced into early retirement, Bennett Hall plans for a quiet, anonymous existence, no longer burdened by her dependent but unlovable aunt, and her own misperceived rejections.
Unexpected encounters and a new job crack open her social isolation. The arrival of Joe Muir, a widower with two adopted Ugandan children, awaken Bennett's long-ignored desires. Inspired to win Joe's love she is determined to fly to Uganda in search of the children's missing sister but must find the courage she has always lacked.
In striving to become the person she longs to be, Bennett discovers it is never too late to find friendship, love, and adventure.
Buy the book, and follow the author on social media:
Learn more about the writer. Visit the Author's Website.
Like the Authors Facebook Fan Page.

Author Bio:
Irene was born in Rome, came to US. via Austria and Argentina, grew up in New York, studied in Germany, worked in Naples, lived in Switzerland and settled in Arlington, VA. She worked for the government, and as a ceramic painter, and loves to write all kinds of books.