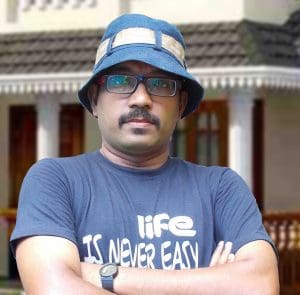 Tell us about yourself and how many books you have written.
I am an Indian writer. I am born in Ernakulam district, Kerala state in India. My first novel 'Mayakkottaram'(The Magic Palace) was published in 1999 at Manorajyam weekly. I am published forty short stories in different periodicals. More than 100 books have been published by various publishers.
What is the name of your latest book and what inspired it?
My latetst book is " Neeli". It is a horror novel based on Neelikatha is a Kavya who tells a strong revenge story of ancient South India. This old Tamil work is a description of the life story of Kalliyankattu Neeli by the time of the Chola dynasty in South India. "Neeli" is a bad spirit. This story describes the curious things like Reincarnation, Premonition, witchcraft, astrology, Yakshi, and blood intake bad spirits, like any other world fairy-tales. This fairy tale is an independent work based on the Neelikatha.
Do you have any unusual writing habits?
At times, there is inspiration for me to write. At that time, I could write without even listening to the sound of the fan in the closed room.
What authors, or books have influenced you?
I love the book "One Hundred Years of Solitude"of Gabriel García Márquez.
What are you working on now?
I am a freelance writer and screen writer at Malayalam. Now I try to write books in English.
What is your best method or website when it comes to promoting your books?
I use most of this for Facebook ,Whatsap and twitter.
Do you have any advice for new authors?
Try hard. You will get the result.
What is the best advice you have ever heard?
Try hard. See good dreams. You will get the result.
What are you reading now?
"12 rules for life" by Jordan . B. Peterson
What's next for you as a writer?
Kerala is my home. A novel in the social background of Kerala in the 1970s. I'm in its work.
If you were going to be stranded on a desert island and allowed to take 3 or 4 books with you what books would you bring?
I am bring the books of Arthur Conan Doyle Sherlock Holmes series and Agatha Christie's books.
Author Websites and Profiles
Vinod Narayanan Amazon Profile
Vinod Narayanan's Social Media Links
Twitter Account