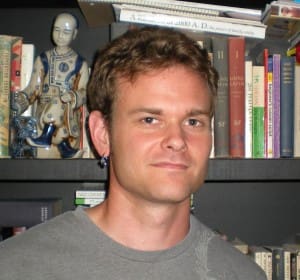 Tell us about yourself and how many books you have written.
I am a fiction novel writer hailing from Central Ohio. Quiet and reserved would be the best way to describe myself, a not-so-crazy guy with an oh-so-crazy imagination. I absolutely love the outdoors ( hiking and mountain biking ) nearly as much as I love spinning tails of horror, action, and adventure…almost always with a dash of supernatural spice thrown in the mix. It is safe to say that the outdoors has no doubt inspired my writing as all of my books thus far primarily take place in the woods.
I currently have 3 books released – "Kamakazo" A terrifying tale about six men hunting down a flesh-eating whitetail deer in the hills of West Virginia. "Catahoula" A story of a dog named Jasper and his adventure through a haunted swamp in Louisiana. And "Kentucky Moon" A book about two brothers and their hunting dogs tracking down an evil entity that lives in the dark forests of Kentucky.
What is the name of your latest book and what inspired it?
My latest book entitled "Kamakazo" takes place in the hills of West Virginia. It is a story about six hunters banning together to take down a carnivorous whitetail deer that one of the said hunters discovers on his property. I think the very root of what inspired the story is simply that I decided to take one of the most seemingly harmless creatures of the forest, the whitetail deer, and turn it into a raging monster. Sort of a "what if" scenario, I feel that turning a thing you picture in your head as innocent or majestic into a monster, makes the thought of it that much more terrifying. I have spent many hours observing whitetail deer in the outdoors, the way they move etc. They are nimble and lightning fast. They quite literally have been recorded jumping over objects 9 feet high and clearing gaps 30 feet across. Couple that with their camouflaged bodies in the forest and you would have a deadly predator if you gave them the teeth and the claws to get the job done.
Do you have any unusual writing habits?
Hmm, I am not sure if this would be considered unusual but I have a tendency to write almost everything longhand ( with pencil and paper ) I guess in the digital age we live in that would be considered perhaps slightly bizarre. In fact, every novel I have written so far has been all by pencil and paper in rough draft form. I guess that spawns from my distrust of computers. I once started typing a story when I was much younger and the computer froze when I was ten pages in and lost all my work. From that day forward I started writing in notebooks. The one downfall of writing out your rough draft in pencil is taking the time to type it all back out on the computer.
What authors, or books have influenced you?
This is a slightly difficult one for me to answer. The truth, and I hate to confess it, is I have not read a novel in over 18 years. Yes, 18 years. Why? Ever since I started writing books I have had a bizarre fear that I will subconsciously emulate other authors writing styles and/or ideas if I read their books. It is a silly thing I know, but I have actually talked to several other writers who share a similar fear. But if I had to name one author that influenced me back when I did read it would be the late and great Michael Crichton. A very good story teller indeed. I especially loved Congo, Jurassic Park, and Eaters of the Dead.
What are you working on now?
Pretty excited about this one! My fourth and current novel project entitled "Gemini" is a horror/ action story about an old world book called the Gemini. It takes place in the fictional town of Harbinger Valley Pennsylvania. A girl named Samantha Page stumbles upon a strange book traded into the bookstore where she works. Old, untitled, and mysterious looking she knows the tome has to be special. It is not long that an eccentric man dressed in 1800s garb comes looking for the book. Introducing himself as Alistair Neembo, he is looking for an antique book called the Gemini. Samantha lies and denies ever seeing it.
The story soon progresses into an apocalyptic scenario as Samantha inadvertently reactivates the book and Alistair Neembo regains possession of it. The Gemini turns out to be a field guide and summoning device for old world demons known as Necronites.
The town of Harbinger Valley will never be the same as an army of demons is summoned to hunt down 10000 humans for summoning a gateway for the olde gods to come back to earth and rule once again. And the key to the gateway? The sacrifice of a soothsayer. All of those horrid dreams and macabre visions she had her whole life she had chalked up to mental illness, but no, Samantha turns out to be the one last piece that Neembo needs to bring back his gods of darkness. But one thing stands in his way, a mysterious and vengeful man by the name of Newt Dit Doon arises from the shadows ripping demons limb from limb with his bare hands. Haggard and having a past with Neembo going back over 150 years, he is the one last hope for saving Samantha, and the entire world.
What is your best method or website when it comes to promoting your books?
So far Facebook has been a good outlet. Social media is a great weapon for promotion.
Do you have any advice for new authors?
Admittedly I am still climbing the shaky ladder to success, but, as stated above, I would say social media is your best ally. Definitely create an author page on Facebook. Friend as many folks as you can, never stop reminding people that your book is out there and you want people to read it. If you are not excited about your book no one else will be.
Also, get yourself a website. They are so inexpensive these days and very easy to make.
Another piece of advice is do free ebook giveaways on Kindle. You'll have to join KDP select to do this but it is a good tool to get your book into peoples hands.
What is the best advice you have ever heard?
LOL! When I hear the best advice ever I will be sure and let you know.
What are you reading now?
Currently, my own excessive blathering. Love to pick a book not written by me up one day, but I just don't seem to have the time.
What's next for you as a writer?
That I don't know. If anything is uncertain it is the future. I imagine I will hunker down and keep fighting the good fight here in the indie author trenches. Hopefully one day I will win the battle and more people will recognize my name in the literary world. I have over 10 books waiting to be written so one thing is for sure, there will be plenty of work for me to do.
What is your favorite book of all time?
Jurassic Park, LOL! Just a good book. The best part of it? Dinosaurs, everyone loves Dinosaurs. I watched that movie 13 times when it came out. Surprisingly the book was not that far of from the movie which seems to be a rare thing. Of course the book was better though.
Author Websites and Profiles
Wes McCloud Website
Wes McCloud Amazon Profile
Wes McCloud's Social Media Links
Goodreads Profile
Facebook Profile