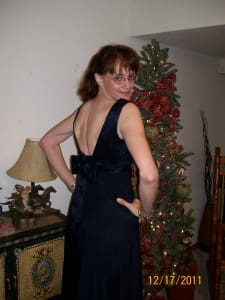 Tell us about yourself and how many books you have written.
I'm married and mother to two daughters, 3 dogs, and a horse whom I have raised and trained myself. I'm also a cancer survivor, battling leukemia in 2013. I'm currently living in a small town in SE Missouri withcmy family, where I continue to write. I'm the author of three books currently available in print or e-formats: Keeping a Backyard Horse, My Butterfly Cancer, and Once Upon a Western Way. I'm working on getting these three converted to audiobook.
What is the name of your latest book and what inspired it?
I'm working on two projects at the moment, Triple Heist, inspired by a short time when I worked for an armored truck company, and Fang and Claw, Book One of the Undead Unit series, inspired by my love of crime stories, my sense of justice, and one of my favorite TV series: Supernatural!
Do you have any unusual writing habits?
I usually write in bed with my laptop. Silly maybe, but I'm still recovering from cancer and the effects of chemotherapy, so I get tired very easily. I don't have the advantage of having a 'home office', so I write where I'm the most comfortable and where I can close out the noise of a busy family if I have to.
What authors, or books have influenced you?
I love to read Nora Roberts, J.D. Robb, Patricia Cornwall, Kay Hooper, and Fern Micheals, among many others.
What are you working on now?
Besides working on Triple Heist and Fang and Claw, I'm working to get my first three books converted into audiobooks. My Butterfly Cancer is currently in production and should be out by December 1, 2014. I hope to provide copies to Barnes Jewish Hospital, who took such good care of me when I was sick. Since I'm an independently-published author, I'm in charge of my own marketing as well, so I spend a lot of time time using social media to advertise, and devising new ways to market my books.
What is your best method or website when it comes to promoting your books?
So far, I think Twitter has become the best source for promoting books, though I also have a website, a blog, an author page on Amazon, a Facebook fan page, and use a promoting site called askDavid.com and WiseGrayOwl.co.uk (as well as submitting here!). I'm also on Smashwords, though my books are currently Kindle exclusives at the moment. And I'm a member of GoodReads, Shelfari, and Scribophile. I have also just begun using Google+ and LinkedIn.
Do you have any advice for new authors?
Don't give up! It's a fickle world out there with monster publishing houses, but independent publishing is, I think, going to put them out of business eventually. Make your work as perfect as possible (spelling, grammar, even formatting), because there's a lot of competition. And don't lose hope if sales seem to be riding a roller coaster.
What is the best advice you have ever heard?
"Do not go where the path may lead. Go instead where there is no path, and leave a trail."~Ralph Waldo Emerson
What are you reading now?
I don't have much time for reading right now, but I am into a novel called Yesteryear, A Novel of Reincarnation by Samyann, another author I met on Twitter who bought Once Upon a Western Way and reviewed it for me.
What's next for you as a writer?
My two current works in progress and converting my books into audio format is about all I can handle at one time. But I'm planning to edit all my print versions and release second editions, as well as edit formatting for my kindle versions. Plus I'll need to get My Butterfly Cancer formatted for Smashwords, so I can release it for Nook once its enrollment in Kindle Unlimited is over.
If you were going to be stranded on a desert island and allowed to take 3 or 4 books with you what books would you bring?
One of the Special Crimes Unit by Kay Hooper, an In Death by J. D. Robb for sure!
Author Websites and Profiles
Marguerite Madden Website
Marguerite Madden Amazon Profile
Marguerite Madden Author Profile on Smashwords
Marguerite Madden's Social Media Links
Facebook Profile
Twitter Account