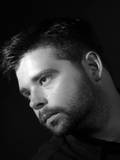 Tell us about yourself and how many books you have written.
I am a writer out of the small town of Kingston, Washington, just west of Seattle. I currently have one short story that's been published and one novel which I just self-published on April 1st. I volunteer at the local PAWS facility, taking care of cats looking for homes. I also enjoy movies, anime, video games and long walks in the woods or on a beach. Obviously, I'm not particularly good at telling people about myself (hence the line stolen from every generic personals ad ever written.) I have a fairly dry sense of humor, which is also fairly black. My chosen genre is horror and it tends to show as I'm likely to smirk, smile or outright laugh at things that would generally be considered inappropriate. For example, I was recently part of a discussion about medical malpractice, one person brought up what she had learned in culinary school about illnesses and the legality of responsibility if people get sick from their cooking. Another person replied to that by saying people's lives and cooking are still two seperate issues. My response to her response was "Not if you're talking cannibalism."
What is the name of your latest book and what inspired it?
My latest book (which is also my debut book) "The Unknown Neighbor" was published on April 1st, 2013. What it's about, and what inspired it, is the idea of what about the people who live next door to the guy who goes crazy, goes to his other neighbor's house and murders the entire family? Suddenly they have to live with the thought that their lives could have ended that night instead if the murderer had just turned left instead of right when he left his house. It's fairly psychological as the main character, Carla Carvine, tries to deal with the impacts of her friends being murdered and being a murderer, on top of her own paranoia, fears and desire to ensure the safety of her family.
Do you have any unusual writing habits?
I don't particularly have any writing habits I would consider unusual. To be honest I don't really have any writing habits. I sit down any point during the day the mood strikes me and start writing. It can be anywhere from a 500-word scene to 4,000 words a day. I don't get up at 8:00, write from 9:00 to noon, edit in the afternoon and then spend time with the family. I'm not a particularly structured person like that. When I'm working on a piece, though, I do like to try and make sure I get at least a little bit done every day. I do like to listen to music when I write, which is something I've seen debated on a few websites, but otherwise, the answer to the question posed, is no.
What authors, or books have influenced you?
Whew, the list is too long to fill out. King, Koontz, Crichton, Lovecraft, and Matheson are classic authors in my chosen genre (horror, see above) and deserve to be mentioned. Most recently, through their blogs, I've been heavily influenced by J.A. Konrath and Robert Lee Brewer. Both are excellent sources of information about the business of writing and I probably wouldn't be published today if not for their attempts to point fellow writers in the right direction.
Really, I almost feel like this is a trick question. A better one would be, "What author's or books haven't influenced you?". The only answer to that would be writers you haven't read or heard of, because if you really want to be a writer, and you read as a writer, you learn something or pick up something from every book you flip through. It may be a new word you didn't know, it may be an example of how NOT to do characterization, it may be the specific way a writer uses grammar in ways that are completely wrong and yet somehow it works. So I think if you're trying to be a writer and you have a book you've read which hasn't influenced you in some way, you're just not taking your task seriously enough.
What are you working on now?
I have two more novels I'm working on at the moment, and I'm considering a short story collection. My goal is to try and have two more books published by the end of the year. One of my works, a novel which is currently carrying the title of "Class 5" is already pretty close to having it's first draft finished, so it may even be out by summer if I can keep a good pace on it. "Class 5" is more a typical action horror story as opposed to the psychological trauma of "The Unknown Neighbor." It really started as a short story. A typical latch-key kid. Home alone while his parents work late, he locks up the house, turns off the lights and climbs into bed. One of his cats jumps up to join him. Then another cat. Then a third. Then he freezes in place as he remembers, he only has two cats, not three… It turned into a novel as I reached the end and found myself asking "What next? What next?".
What is your best method or website when it comes to promoting your books?
Really, I don't think there is one best method or website. It's about how much effort you put into it over the whole ordeal of promoting. Robert Lee Brewer's blog has a month of posts from a few years ago that were all about building your platform as a writer. Every day lists a different task for you to do towards that end. (Even now, I haven't done all of them and some I haven't done as completely as I should, resulting in more of a soapbox than a platform, but it does seem to be working.) It ranges from signing up on Facebook or Twitter, to starting a blog, following other people's blogs and responding to other people's tweets. It's about getting yourself out there as much as you can in as many different ways as you can. My own blog post from this week lists the different ways I've promoted myself and my book even before it was published.
Do you have any advice for new authors?
Be realistic. Don't expect your book to jump from just published to best-seller overnight and don't expect to be sitting on a beach in Aruba just because you've published a book. The news trumps up stories about authors who hit it big with their first book and have million dollar deals. I look at it as, when enough people play, somebody's going to hit the lottery. That's just one person that made it big. For every one of them, there are thousands of authors who get little to no advances on the books companies purchase and then there are probably tens of thousands who's books were beneath the notice of the publishers. It also applies to self-published novels. Don't expect to be buying a house with the profits of your first book after it's only been out for a month.
Getting hyped up over ideas of becoming rich and famous doesn't do anybody any good. The dreams distract you from the real reason people make a living as an author, and that is by sitting down and writing more. Finished your first book? Great, here's a slap on the back, crack open a cold one, maybe go out to dinner. Tomorrow, start on your next.
What is the best advice you have ever heard?
Another hard question to answer. I've been given lots of good advice over the years, along with some bad advice. Probably the best advice I've ever had though, is a line out of Stephen King's book "On Writing."
"Put your desk in the corner, and every time you sit down there to write, remind yourself why it isn't in the middle of the room. Life isn't a support-system for art. It's the other way around."
What are you reading now?
I'm actually between books at the moment, been looking for another one to catch my eye. The last book I finished, though, was "Turner" by Karl Drinkwater. An excellent horror story, with a lot of nods to many of the classics and one I would recommend to just about anyone with an interest in the genre.
What's next for you as a writer?
More writing. As I said I have two more novels I'm working on as well as several short stories. On top of that is the work of advertising and promoting. I'm really giving this a solid attempt in the hope that I might eventually be able to support myself off of just my writing. I have no misgivings about the effort and time that's going to take, multiple books and probably years down the road, but I've started, and it's a path I plan on walking until something better comes along or something drives me from it.
What is your favorite book of all time?
An easy last question. Jurassic Park, hands down. I've been a dinosaur nut ever since I was little and this book delivered beautifully. I actually read it when I was only in sixth grade, which seems to shock a lot of people and I remember, even then, telling everyone who would listen what a great movie it would make. It's stained, faded, and held together with duct tape and is one of the few books I would probably never get rid of.
In fact, I might just go read it again…
Author Websites and Profiles
Shaun Horton Website
Shaun Horton Amazon Profile
Shaun Horton's Social Media Links
Goodreads Profile
Facebook Profile
Twitter Account