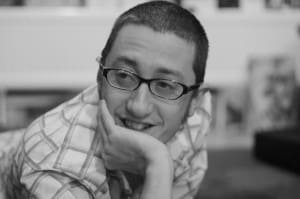 Tell us about yourself and how many books you have written.
I'm the author of the 'Adventures of Eric and Ursula'. Over the last 18 years, I have lived near Dracula's castle in Transylvania, war-torn Sri Lanka and above the Hadron Collider in Geneva. Currently, I live in Prague, not far from a space rocket covered in giant babies.
The idea for 'The Adventures of Eric and Ursula' came to me while hiking in the Tatra Mountains in Slovakia and is my first series of novels. I have written two of them so far.
For an older audience, I wrote the films 'Seagulls' which was shown at the Brighton Film Festival and 'your baby disappeared' which premiered in Prague in 2011. When I am not writing I enjoy spending time with my family, cycling, watching movies, listening to comedy and being creative.
What is the name of your latest book and what inspired it?
My latest book is called 'Survival Instinct'. I wanted to create superheroes and characters which were believable and would appeal to young adults. To do this, I was inspired to create Eric and Ursula, who are eleven years old. Unlike other superheroes, they don't wear their underwear on top of their trousers.
Do you have any unusual writing habits?
I wrote my first two novels using a trusty fountain pen which broke as soon as the second novel was finished. Maybe one day the handwritten copies will be in a museum.
What authors, or books have influenced you?
I enjoy the 'Artemis Fowl' books by Eoin Colfer. He has created a whole world which is both fantastical and fun. Also 'Holes' by Louis Sacher because it is just a brilliant story.
What are you working on now?
I am working on the third novel in 'The Adventures of Eric and Ursula' series. It is going really well and I think it is the best of the series so far. The provisional title is 'Fall Back' but this may change.
What is your best method or website when it comes to promoting your books?
Personally, I think the best method of promoting is to try something new each week and don't worry if it fails. For my first book, I tried sending a mock ransom note to TV and radio stations. A DJ in Switzerland loved it but the BBC in the UK thought it was genuine. Oops! Also make sure that you mix promoting with writing. If you do too much of one, the other will suffer.
The best website for promoting your books is your own. So, make sure links to where your book can be bought/downloaded appear on every page.
Do you have any advice for new authors?
Don't expect to be an overnight success. Nobody knows you, nobody has heard of your books and you are currently in last place. Work hard and, with a bit of luck, you'll end up near the front. Keep a track of your successes, no matter how small, as they will keep you motivated.
What is the best advice you have ever heard?
"If you want something hard enough, you'll have to work hard for it," my grandmother
What are you reading now?
'The Passport' by Herta Muller.
What's next for you as a writer?
I will finish the four books in 'The Adventures of Eric and Ursula' and then possibly try something new. I was thinking about a non-fiction book about peoples' dreams (as in what they want to achieve in life).
If you were going to be stranded on a desert island and allowed to take 3 or 4 books with you what books would you bring?
'Suite Francaise' by Irene Nemirovsky because it is a beautifully written book.
'Blackberry Wine' by Joanne Harris. I read it ten years ago and keep saying to myself that I will read it again.
'The Essential Chomsky' by Noam Chomsky so my brain does not turn to mush.
'Robinson Crusoe' by Daniel Defoe. I may pick up some handy hints.
Author Websites and Profiles
A.D. Winch Website
A.D. Winch Amazon Profile
A.D. Winch Author Profile on Smashwords
A.D. Winch's Social Media Links
Goodreads Profile
Facebook Profile
Twitter Account