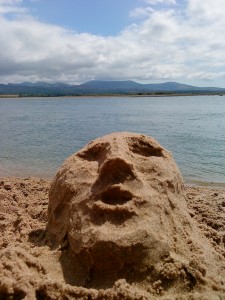 Tell us about yourself and how many books you have written.
I'm a Brit neo-noirist from the grim north who prefers to be beside the seaside whenever possible. I've written five books: two novels, two novelettes and an anthology of poetry.
What is the name of your latest book and what inspired it?
It's called "The Horseman's Dream" and it was inspired by the transparent psychopathy of certain media corporations. Their brazen corporate propaganda and pillorying of the vulnerable for higher ratings/circulation has always seemed grotesque to me, made worse by the public's appreciation of it.
Do you have any unusual writing habits?
I had to research the effects of differing frequencies on the human brain for The Horseman's Dream, leading me to experimentation whilst I was writing. I found Alpha waves very helpful in that they slowed down my thoughts enough for me to arrange them more easily, so I sometimes use those recordings if I am having trouble. If anyone would like to hear some examples they might use for their own writing, tweet me.
What authors, or books have influenced you?
Franz Kafka, J.G. Ballard, Dennis Lehane, Martin Amis, Will Self, H.G. Wells, T.S. Eliot, Aldous Huxley.
What are you working on now?
Redrafting The Horseman's Dream, another novelette in the Grey Noise series and a TV pilot about 18th century smugglers.
What is your best method or website when it comes to promoting your books?
This one: http://www.ajreid.org/
Do you have any advice for new authors?
Think about how you'd tell a joke or a story to your mates before you think about your dazzling literary legacy. Readers want stories first; words second.
What is the best advice you have ever heard?
Two bits of advice, but they work better when juxtaposed, in my opinion.
1. Do unto others as you would have others do unto you.
2. Get the first punch in.
What are you reading now?
I have a lovely leather-bound Penguin Classics edition of The Big Sleep by Raymond Chandler sitting next to me amongst a pile that includes:
Great Apes by Will Self
Eyeless in Gaza by Aldous Huxley
The War Poems by Siegfried Sassoon
The Psychology of Imagination by Jean-Paul Sartre
Anthology by Walt Whitman
Selected Poems by W.H. Auden
Kiss Kiss by Roald Dahl
Orphans (screenplay) by Peter Mullan
What's next for you as a writer?
I don't even know what's next for me as a human being.
If you were going to be stranded on a desert island and allowed to take 3 or 4 books with you what books would you bring?
Man's Search for Meaning by Viktor Frankl
SAS Survival Handbook by Lofty Wiseman
The Coconut Diet by Ivor Hairiwun
A blank notepad
Author Websites and Profiles
A.J. Reid Website
A.J. Reid Amazon Profile
A.J. Reid's Social Media Links
Twitter Account
Pinterest Account