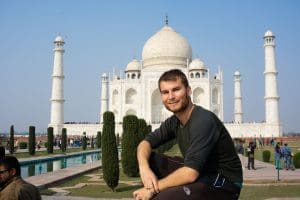 Tell us about yourself and how many books you have written.
Well the first thing you should know about me is that my name is Aaron Hodges and I'm a fantasy and science fiction author from New Zealand. I've been writing fulltime since 2015, and averaging three books a year I've now published I think 18 novels? I'm starting to lose count to be honest!
What is the name of your latest book and what inspired it?
My latest book will be hitting shelves on the 26th October and is titled Untamed Isles: The Path Awakens. There's a bit of an interesting story with this one, in that the concept for the book actually comes from a video game a friend of mine is developing. It features a group of explorers as they arrive at a mysterious new island and discover a world of crystal-including beasts and monsters that hunt them each night.
Do you have any unusual writing habits?
I don't know if it's unusual, but I cannot write without my music and my coffee! I usually take my laptop to a coffee shop, put in my airbuds, and work like that.
What authors, or books have influenced you?
I think David Eddings and Phillip Pullman were some of my earliest influences, especially for the grand, world ending stakes that are often involved in my stories.
What are you working on now?
I'm hoping to start working on my next book, Guardian, shortly. That will be a sequel to my novel, Defiant, which is a science fiction series based on the planet Talamh, and features a world where the human race has been conquered by an alien species.
What is your best method or website when it comes to promoting your books?
I've found the best results have usually come from using Amazon Ads
Do you have any advice for new authors?
Finish your first book, your first draft, and worry about the editing later! Otherwise you tend to get bogged down in editing and never finish.
What is the best advice you have ever heard?
Just because something is hard, doesn't mean you shouldn't do it!
What are you reading now?
The Name of the Wind. I've only just started it though, so its too early just yet to give a verdict personally!
What's next for you as a writer?
Keep writing books I love hopefully!
If you were going to be stranded on a desert island and allowed to take 3 or 4 books with you what books would you bring?
I'd probably take the four books of the view from the mirror series by Ian Irvine. I love the characters and the world so I think it would keep me busy. They're also ENORMOUS
Author Websites and Profiles
Aaron Hodges Website
Aaron Hodges Amazon Profile
Aaron Hodges's Social Media Links
Facebook Profile