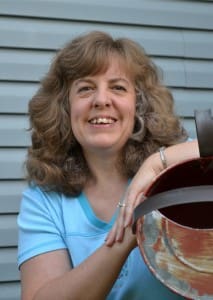 Tell us about yourself and how many books you have written.
I am the award winning author of the Fern Valley Series which includes Fern Valley, Return To Fern Valley, and Cooking In Fern Valley, as well as the new Quack and Daisy Picture Book Series, a public speaker, amateur photographer, a blogger, and SCBWI member. In addition, I host writing workshops for children in first to sixth grade, offer library and school visits, and speak at events. I resides in lovely Shelby, Ohio with my beautiful daughter, wonderful husband, and our crazy cats Max, Daisy, and Fluffy. My motto is "Kids Who Read Can Do Anything!"
What is the name of your latest book and what inspired it?
Quack and Daisy – Beyond The Meadow is my latest book and the second in my Quack and Daisy picture book series. It is the story of two unlikely friends and their adventure as they find out that a mother's advice is meant to keep her children safe. The cat character was inspired by my family's own cat Daisy.
Do you have any unusual writing habits?
Not really. I generally try to write early in the morning before everyone else is awake. It is much easier to write while it is quiet versus the continual Mom, Mom, Mom moments.
What authors, or books have influenced you?
Probably too many to mention, but some of my favorite books as a child were Goodnight Moon, The Little Red Hen, Corduroy, Little House on the Prairie, Heidi, etc…
What are you working on now?
Currently I am in the production process for the third book in my Quack and Daisy series called, Quack and Daisy – Room For One More about the ability to love and make room in one's heart for many individuals. I am also working on a children's mystery, and several new picture book ideas.
What is your best method or website when it comes to promoting your books?
I have several. I have my own website Fun With Aileen as well as a separate blog called Aileen's Thoughts. My favorite social media sites are Face Book and Twitter.
Do you have any advice for new authors?
I actually have ten tid-bits of advice for new authors and they can all be found at http://aileenwstewart.blogspot.com/2011/12/top-10-things-new-authors-should-be.html
What is the best advice you have ever heard?
Don't Give Up!
What are you reading now?
I am always reading from a stack of picture books I obtain from the library as I review on my blog every Monday.
What's next for you as a writer?
Just the usual. School Visits, Book Festivals, and more writing.
If you were going to be stranded on a desert island and allowed to take 3 or 4 books with you what books would you bring?
I would definitely bring my Bible for inspiration, hope, and direction, but for entertainment I would probably bring Escape From Mr. Lemoncello's Library. And since I'm stranded, a bird identification book would be great as well.
Author Websites and Profiles
Aileen Stewart Website
Aileen Stewart Amazon Profile
Aileen Stewart's Social Media Links
Goodreads Profile
Facebook Profile
Twitter Account
Pinterest Account