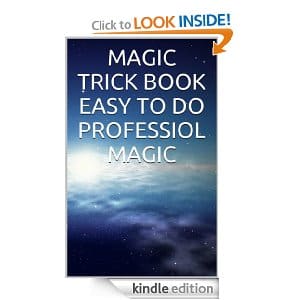 Tell us about yourself and how many books you have written.
Hi Guys!! my name is Akshat Agrawal. I am a street magician from India.This is my first book. I have written this book to save the art of magic. I have won two awards at the age of 15 and 19 for best teen magician and duo magicians award. I have compiled some of the closely guarded secrets of card magic, mentalism tricks, coin tricks and tricks with other common things. The tricks are such that they are self working and you don't need to practice it a lot
What is the name of your latest book and what inspired it?
The name of my latest book is Magic Trick Book Easy To Do Professional Magic.
I was inspired to write about it because I am a magician, and to promote magic this is my first mark at global level. I want to save the art of magic.
Do you have any unusual writing habits?
Well!! I tend to write better at nights. Even More!! I write better when I am thrilled by a new magic which I want to share with you.
What authors, or books have influenced you?
Some Books like Magic Complete Course, 101 Magic Tricks etc have also inspired me
What are you working on now?
I am working on my second book on magic and belive me it will be the best I have ever written.
What is your best method or website when it comes to promoting your books?
My best method is to directly contact my readers. I have also enrolled my book in KDP select. Also I am offering my Book at discounted rates for a limited period.
Do you have any advice for new authors?
Just do it!! What you have in your mind, write it down NOW!! Don't think; Action is what which maters.
What is the best advice you have ever heard?
Belief is what we are; Action is what which matters.
What are you reading now?
I am reading some fiction books currently in my leisure time.
What's next for you as a writer?
I am also planning to go in other categories like self help, how to etc.
What is your favorite book of all time?
My favorite book of all time is Criss Angel tricks revealed.
Author Websites and Profiles
Akshat Agrawal Website