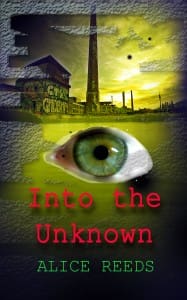 Tell us about yourself and how many books you have written.
My name is Alice Reeds and I love reading and writing. It all started back when I was around eight or nine years old, therefore it only took me eleven years to finally write a complete novel (that actually took me around ten months). I self-published my first novel, Into the Unknown, just a few days ago.
What is the name of your latest book and what inspired it?
The title of my book is "Into the Unknown" and is the first book in a Trilogy that I'm working on. There are a few things that inspired me, actually. It all started during the last week of December 2012. I was walking down the street while listening to a song by David Guetta and suddenly the idea for a book hit me. Throughout the next days I was thinking about that idea, developing it and so it slowly grew and grew.
Another thing that inspired me was the idea of altering human genetics in order to make them stronger or faster. Of course I had no exact idea how that works so I had to do a decent job of researching it, which was harder than it might sound like.
Do you have any unusual writing habits?
I'm an owl, meaning that I like to do things at night and be up till late into the night, and therefore I enjoy writing during the night as the silence helps me to concentrate and gives me new ideas, and I know that might sound just a bit crazy.
Also I created myself special playlists containing songs that I thought would match whatever chapter I was working on as it really helped me to really feel whatever my protagonist was going through, which was very helpful for writing it down.
What authors, or books have influenced you?
I am a big fan of everything that is dystopian, so I guess that Divergent by Veronica Roth, The Hunger Games by Suzanne Collins and Awaken by Katie Katvincky definitely gave me the first idea of wanting to write a dystopian book.
What are you working on now?
Right now I'm trying to inform the world about my book but soon I'm going to start working on my second book for my trilogy.
What is your best method or website when it comes to promoting your books?
I think goodreads.com is a very good page to promote books as it's a page for book lovers and writers.
Another good method is having a blog, one that maybe already existed a while so that people already knew it as it gives you a bigger chance of people seeing your book and getting interested it.
Surely, if you are an author that has an agent and who's book was published by an actual publisher there are people who will do all this for you, but as self-publisher I think those two are good places to start.
Also I think placing your book on amazon and smashwords is a very good step into the right direction
Do you have any advice for new authors?
The most important thing of all would be to simply keep on writing, even if one day you think your work is bad, just keep on writing as tomorrow your opinion might change or you might get another great idea. Just keep on writing.
After putting your work out there, the best you can do is spread the word. Tell your friends about it, post it on web sites on which you think you could find people who might get interested in it and don't think your book will immediately be a New York Times bestseller. No matter how good your book might be, it'll take time till people will know about it so be patient.
What is the best advice you have ever heard?
The best advice was probably to not expect anything to happen, as in not to think that immediately people will love your book and you will be the next JK Rowling. You have to be patient and work hard. And also to be aware that there will be 3 types of people out there: ones who love your book, ones who absolutely hate it and ones who just don't care and/or don't know about it.
What are you reading now?
Right now I am reading "Prodigy" by Marie Lu, the second book in her Legend series. I very much enjoyed the first book so I have high expectations for Prodigy.
What's next for you as a writer?
Definitely start writing the next book for my trilogy, keep on working and improve my writing, because in this life you'll get nothing for free.
What is your favorite book of all time?
I would say "Awaken" by Katie Kacvinsky. It was the first dystopian book I've ever read and it made me fall in love head over heels with dystopian novels.
Author Websites and Profiles
Alice Reeds Website
Alice Reeds Amazon Profile
Alice Reeds's Social Media Links
Goodreads Profile