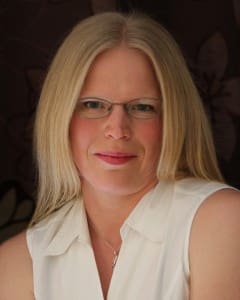 Tell us about yourself and how many books you have written.
I have always loved stories, but I only began writing novels five years ago when I was pregnant with my first child. I took a Creative Writing module through the Open University and was immediately hooked, although my desire to write novels came from my first participation in NaNoWriMo (National Novel Writers Month – writing 50,000 words in thirty days).
Since then I have written four Contemporary Women's Fiction novels and one Young Adult Fantasy/Paranormal Romance novel.
What is the name of your latest book and what inspired it?
My novel, Dragon Wraiths, came to me in a dream, as corny as that sounds. I woke with the plot in my head, although by the time I managed to wrestle past two small children and write it down I only had the opening line and a general idea of the story.
Dragon Wraiths is my first Young Adult Fantasy/Paranormal novel and I was inspired to finish it because of my renewed interest in the genre after reading Twilight and the Hunger Games series. Although I love reading Sci Fi / Fantasy as a genre this was my first foray into writing Fantasy, as I didn't know if I would be able to imagine a real-enough fantasy world to sustain a full novel.
Do you have any unusual writing habits?
As I spend most of my time looking after two small children I write when I can. My daily blog is written after the children are in bed, but I also write 0n my phone while I'm walking the dog or when the children are off playing at the park. I tap out 200-word text messages (the limit for each text) and upload them all to my laptop at the end of the day. I have been known to write 1500 words on a 45 minute walk with the dog.
What authors, or books have influenced you?
In terms of Fantasy world building I love David Eddings: all of his series have enthralled me and the characters, particularly from the Belgariad and Malloreon, have become old friends. The same is true of Terry Pratchett with the Discworld novels. I wouldn't say I have been influenced by them – I can only dream of writing such great literature – but I do aspire to be that good one day, if I work at it long enough.
Dragon Wraiths was influenced by Twilight and the Hunger Games, for the strong female protagonists and the first-person writing style. I also read Eragon by Christopher Paolini after finishing the first draft, and as a result my editing focused much more on getting the dragons to be three-dimensional characters as Paolini has done.
What are you working on now?
Most of my time is spent on my blog as I am taking part in the 2013 Postaday Challenge on WordPress. My daily blog is divided between a new installment in the novel Two-Hundred Steps Home – devised for the blog challenge – and a diary part that discusses a range of topics from parenting to book reviews to self-publishing.
I am also sketching out a new MG novel which is currently in the early stages. I don't normally plan my novels, but for this one I don't have the capacity to write alongside the daily blog, so I am taking the time to work on plot and character development. I hope to make progress with writing the draft during this year's NaNoWriMo, if the daily blog allows.
What is your best method or website when it comes to promoting your books?
I have only been promoting my book for three months so I haven't yet got a feel for the most successful route. I have dedicated a lot of time to Twitter and obviously to my blog. I also write guest blogs and author interviews where possible and that seems to be proving successful.
Do you have any advice for new authors?
I still consider myself to be a new author and therefore am not sure I'm the right person to be giving advice. However, if I were to give myself advice, I would say – don't take anything too personally. The one-star reviews, the detractors, the people who tell you not to self-publish or that you're doing something wrong. But also, don't publish until you and your book are ready, however tempting it may be. I have read some self-published books that are full of typos or which have weak cover art. It is worth taking the extra time to make sure the book is as good as it can be.
Once you are published, don't forget to keep writing. It's easy to get caught up in the promotion, social media and sales reports (I know, I still check my sales figures every morning and it isn't always a positive way to start the day!) and to forget that the best well to sell more books is to write more books. With hindsight I should have concentrated on writing the sequel to Dragon Wraiths rather than starting the daily blog challenge this year. But there's always next year!
What is the best advice you have ever heard?
You can't edit a blank page. Just write. Every first draft is rubbish (I'm paraphrasing the last one!)
What are you reading now?
Return to the Divide by Elizabeth Kay.
What's next for you as a writer?
I have three key goals for the next twelve months: survive/finish the 2013 Postaday Challenge, finish editing my Contemporary Women's Fiction novel Baby Blues & Wedding Shoes, and get stuck into my Middle Grade novel first draft. I suspect the editing of Baby Blues will be the one that gets squeezed, as I find it harder to edit than write first drafts. That's why I have five complete novels and only one is published!
What is your favorite book of all time?
I don't think I could name a favourite book ever as it changes with my mood and requirements, and as I've grown older. I think Terry Pratchett's The Wee Free Men is an amazing book exploring consciousness and what it means to be 'me' and I wish I had read it when I was a child. I love epic stories like Gone with the Wind, and traditional literature, like Persuasion by Jane Austen. David Eddings books were friends to me for a long time, and Marian Keyes novels helped me through my twenties. The books I return to again and again, though, are the Regency Romances by Georgette Heyer. They are soft and gentle, fun and entertaining, and perfect for unwinding after a long day running after my preschoolers.
Author Websites and Profiles
Amanda Martin Website
Amanda Martin Amazon Profile
Amanda Martin Author Smashwords Page
Amanda Martin's Social Media Links
Goodreads Profile
Facebook Profile
Twitter Account